That was certainly a gut wrenching defeat at the hands of the Texans in Houston, Sunday night. Here, we talk about consistency being needed, but we're getting the wrong kind on several fronts. For whatever reasons we all feel, the offense goes MIA on the road this season with a brutal conversion rate on third downs. Can't keep drives alive if you can't convert, You also aren't winning many games when the drives you do have, end in field goals and not a trip to pay dirt. Field goals are the fast path to defeat.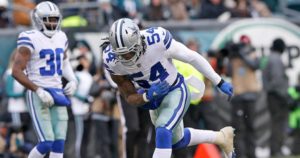 Personally, its good to see them wanting to run the ball on third and one but for all the hoopla about the O line, we came up short on two key plays. Best line and leading rusher and neither attempt worked? I saw that people were giving Garrett a tough time over not going for it on 4th down in OT. I wanted them to go for it too, but when you consider the inability to convert on third down throughout the game, it does make punting a logical alternative. I don't fault JG for that and many should know from my writings that he struggles in end of game situations. This really wasn't one of them considering the ineptitude to convert in short yardage situations. The defense was outstanding in defending the red zone and on key plays. It did appear to be the best option to turn the game over to them. Who didn't jump out of their seat when Jaylon took off and blasted Watson out of bounds at the two? We had legit hope with the defense in action. You've played 60 minutes to that point and only gave up 16 measly points. Which side had performed their job better, the offense or the defense? If there's one thing that has been great to see thru these five miserable games is the play of Jaylon Smith and Kyle Vanderesch, two players that are playing really well for their group. Smith is healthy and confident in his leg and is just letting the game come to him and blowing up plays.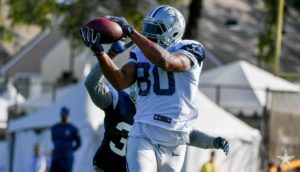 Offensively, they're struggling to execute for the most part. I'm always looking for them getting more vertical and they did have a few wrinkles to do that to start the game, as we saw Rico get his first reception for 32 yards on their second drive. On their first drive Swaim got a quick ball that posted 42 yards. Made us feel that they'd be spreading out their defense with plays like that. But the Texans stayed firm to their game plan to stop Zeke at all cost. If they could do that, as they did, then the plan was to force Dak to beat them. Same plan others have used in hanging three losses on this team. Dak was at his best under heavy pressure, with several miraculous escapes. On one play he produced the longest gain of the night to Austin. A Romoesque moment for the fans! A moment that we're thinking would kickstart a legit drive.
Overall, they couldn't convert on third down. We saw several catchable balls, laying on the ground. We saw two INT's that  were balls not thrown well. The one to Austin was a little high for the speedster and when unable to bring it in, it was fair game. I've written before about the inability for Dak to hit a receiver in stride. The second pick, Dak's WR, had leverage to the sideline, but Dak threw it on the inside hip and the defender, might have been a tick early, but got the ball to ricochet and the eventual ruling went against Dallas. Yes, its a game of inches, but the good one's get the ball to their guys on the move. I watched Goff earlier in the day and he did that very well. Too many drops, several penalties against the defense that extended drives for them, which led to points. We seemed to get a little something going on the ground, when the game was 13-13, from our 15, when Zeke rips one for 12 yards, followed by one for 15 yards, only to have it called back for a hold by Conner. Call was legit, but it killed the momentum.
Now, I realize that their pressure was ramping up as the game went along, but we stopped taking shots. Can anyone recall our making a vertical throw to our fastest WR, Deonte Thompson at all this season? Five games in and I don't recall one attempt to him over 25 yards downfield? What we saw was another night that we saw Dak predominantly played within that 8-12 yard box I often refer to. I'm not a fan of comeback routes, as the receiver isn't on the move, vertically or diagonally. As each week goes by it seems that something is leaking out from the WR corp that they think they're getting open. First it was Beasley, now its Allen Hurns. Their defense of their groups play, despite their denial is saying there's a problem. Now is it the play calling or the QB or both? For my worthless two cents I've watched Scott Linehan call some great games with Romo & Dak at the QB position. Proper execution makes any coach look great! Bad execution exposes failures by the players in my opinion. Being a former coach, that's what I look at. Now, I wouldn't be calling plays, that my players can't execute. So where's the problem. For me, it comes back to Dak and his inability to make his reads quickly enough and for his feet to be at the ready to step and throw.
While we have to face the reality that there's a problem in the execution it lays at the feet of our QB. Heart of a lion but his skillset is limited and worst of all his regression is alarming. He looked solid in his first year and all of our hopes and expectations is that he'd grow and thrive on the field with each game under his belt. I'm tiring of watching plays and he fails to see guys who are open. While there can be mitigating reasons for that, its just his inability to read the defenses and know, really off the snap where the best option really is. QB has to know where he's getting 1 on 1 coverage and the most favorable matchup.
If you knew that our defense was giving up less than 20 points per game, you might think we'd be 3-2 or 4-1 at this point. But who knew we'd be unable to generate points with three games with 16 or fewer points. You don't win games often scoring 16 or less points in the pass happy NFL. This small ball offense with Dak has been unable to post 200 yards thru the air in far too many games over the last season and a half. I put this on Dak's inability to read the defenses and run the offense as the plays are designed. Watching the tape he comes off the his receivers to the check downs a tick too soon on numerous occasions. Its not easy out there and I feel for Dak, but its not helping the team post wins.
We have the Jaguars game at home, so we may have a legit chance in this game, but the Jags pack their defense for each and every game. This game in a nutshell comes down to who fares better, Dak or Bortles? On the surface that makes this game a legitimate toss up. Neither are anything special, so who's got the bigger upside and who's got the lower flooring in this contest? As I type this its not easy making a decision as I don't like either choice. I see Bortles as having the higher upside but also the potential for a lower level of performance. Amazing way to analyze this, which gives Dak's more even keel performances, the slimmest of an advantage. If this contest is another FG fest, it can fall our way, but to be honest only because of Zeke. He can be the deciding factor, in a game that is that tight to break things down. I don't feel great about making the assumption that the Cowboys will win. Zeke gives us hope and the defense is getting better week by week and we're watching some of these guys elevate their game individually and collectively on that side of the ball. Heath was twice his size in the red zone last week. Jaylon and KVE handled all things side line to side line. I see this game 17-13 and hopefully we're posting the 17 big points.