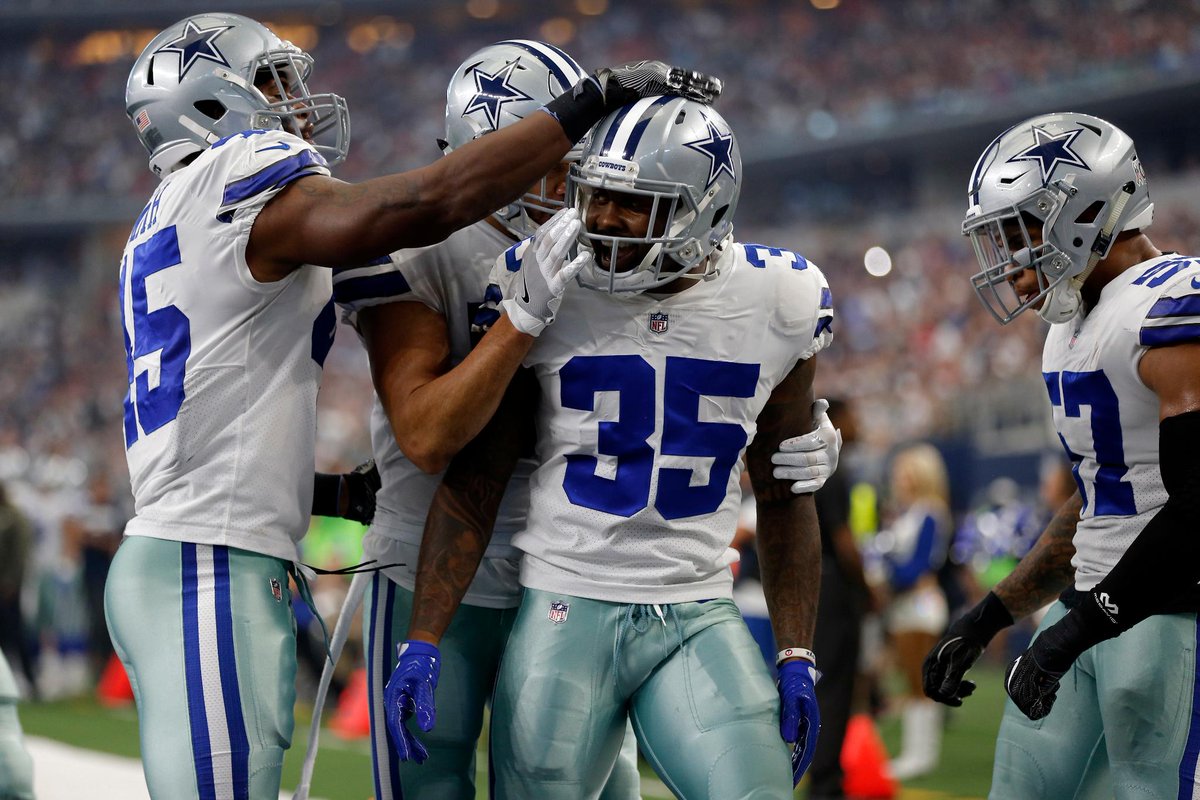 After a game its good to take a look at how our "keys to the game" actually played out for that game. Join me and take a look at what I wrote and what actually happened. I read a few stories out there at the DMN and on the Cowboys website and I bucked the trend, albeit on Friday after hearing Zeke mention how pumped up his teammates were when they knew he'd play on Sunday. I'll be as modest as possible and say that Dallas is showing me the way and I'm just writing what they're they're putting on tape. They're making me feel good as a fan first, a writer second and an old coach in the third slot.
First and foremost this week and every week, STOP THE RUN! That puts you in great position in any game to get the win. We've not proven to be as good against the run as last year, but lets "control their running game". Get a few for a loss, which hurts their down and distance on the ensuing plays and get the D off the field without heavy damage. Must keep Hunt to less than 150 all purpose yards and Hill to 75 or less.
They held Hunt to a mere 37 yards on 9 carries and Hill had was 4 for 9 yards! Lets dismiss the Hill Mary results in how many yards Hill finished with.
    2. Impose our will on the ground and give them a healthy dose of #21, Zeke Elliott. Zeke needs to pick up at least 120 yards to find the Boys on the winning end of this game. I'd really like seeing Keith Smith in there to dig out 2nd level players and pave the way for Zeke.
No matter the result, Linehan fed the Chiefs a heavy dose of Zeke, who had 27 carries for 93 yards. At one point, they made adjustments and got a few TFL. Linehan & Pollack made blocking adjustments to counter and they were back to smashing Zeke down their collective throats. The read option runs by Dak were outstanding, called at a perfect time and executed to perfection! Made me want to pound the table with, "that's what I'm talking about"!
        3. Dallas must not turn the ball over! Kansas City is terrific at protecting the ball and are plus 10 this year.
Dallas did exactly what I demanded of them by not turning it over and when they got a TO from Smith, it was to finish off the game. How great was it that the defense truly "finished" off the Chiefs! The defense took it upon themselves to close it out! Absolutely outstanding of them!
       4. Dallas needs to continue their success of late in the red zone by punching in TD's and not settling for FG's.
Dallas went 4 for 4 in the red zone! Perfection personified!
       5. Can Dallas hold KC to a few FG's instead of TD's?
Dallas held them to a single FG when they attempted to counter Dallas's initial score. The ultimate key was how they performed in the fourth quarter, game on the line. First the D stopped them with a three and out and then the sequence of the Taco sack, followed by the pick by Heath on 4th down.
      6. KC is averaging over 29.5 ppg and Dallas comes in with 28.2 ppg. Don't be surprised that it takes 35 or more points to win this game.
Dallas held them twelve points below their season average. Let that sink in and that's with that seven point gift! Dallas in their last six games are averaging over 33 points!
      7. Be aware that KC is #1 defensively in the NFL in the red zone on 3rd down, with a near 90% success rate. League average is around 36-38%. For some reason they're doing a great job limiting teams.
Dallas had one opportunity to be in a third and goal situation and Dak broke out of the pocket and busted that stat for a TD!
     8. Dallas's running game needs to control the ball, with a balanced running and passing game, keeping KC's offense off the field.
Dallas ran the ball 31 times and threw it 34! They had a slight edge in time of possession.
     9. KC will be trying to do the exact same thing. Winner of time of possession & the one with greater success in the red zone will win this game.
Non issue, KC didn't accomplish anything they needed to do to get a victory.
    10. Both teams are going to scheme their defenses to keep the QB's in the pocket. If Smith has to hold the ball he's a prime candidate for sacks. Dak is bigger, stronger and faster than Smith. The QB who's the most effective in and around the pocket improves his teams ability to win.
The Cowboys kept Smith in the pocket and squeezed him beautifully, so that he couldn't escape. They applied pressure forcing off target throws. Dak was more measured in using his mobility, but by the threat of Zeke hitting the holes, the outside containment wasn't there. It allowed Dak to get out and make simple throws for key first downs. Huge advantage to Dallas!
   11. Dallas has to limit the big chunk plays that have been the norm for KC this year.
I believe that they only allowed two plays over twenty yards. The 57 yard one they were conceding a big play with the remaining two seconds in the half. Dallas did a great job in limiting this category for 59 minutes and 58 seconds, so I'll give them a huge atta boy overall!
Below is the closing prognostication of the outcome that I wrote on Friday evening! I'm thrilled that I missed the score, because I got the most important thing possible and that's watching a defensive masterpiece! I can't wait until the All 22 is made available so that I can give props to those who stood out and performed at a high level. I'll go out on a limb and say that a guy, with #50 on his back will show up big time on tape! Just a guess, but it sure looked as though the was given a copy of the Chiefs play book for this game! At the beginning of the year, given the youth on defense, I felt that it would take till mid season before we knew what we have on defense. Now we know what they can do! Now they need to show the consistency! Always remember my mantra, "No D, No Rings"!
I started the week figuring that KC has played better than Dallas, week by week and s/b the favorite to win this game. I felt that it would take a few possessions for the offense to find its rhythm but now, thats a non issue. Yes, we have to be concerned with Hill, Hunk, Smith & Kelce but there's only one Zeke. Based on a reported boost of excitement in the locker room when Zeke walked in, just might be that little something extra that pushes them to their best game of the season. Cowboys 41-34 …