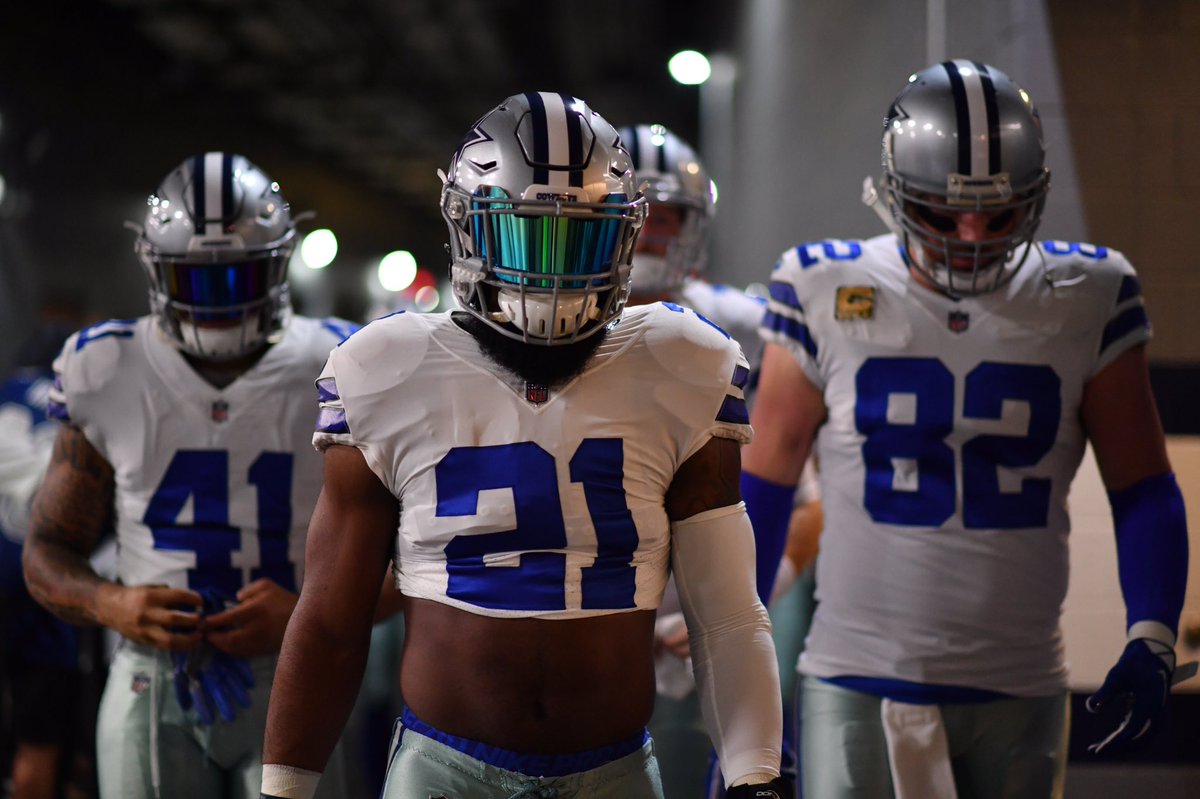 Talk about big games! Talk about a game that the Cowboys needed to win! Talk about a defense that dominated this game! I recall saying that it would take about eight games to know what we had in the way of a defense. They're showing me they can do the most important thing and that's controlling the opponents running game. Once Zeke was given yet another reprieve, I jumped off the fence and called for a Dallas victory, 41-34. It didn't turn out to be the shootout that I expected. But I did feel it would be the teams best game of the year. The ways the defense played, I'd say that it was their best game.
This was a huge game for the Cowboys, for multiple reasons.
They needed to win a game at home!
They needed to win a game against a team with a winning record
They needed to stay within range of the Eagles, to have a shot at the division title.
They needed to win to get within the top six or at least not lose ground on a wild card slot.
The Cowboys defense came to play and gave perhaps their best effort of the season, except for one single play. From the start, the defense clamped down on the KC running game, holding Hunt to a paltry 37 yards on 9 carries. They did a great job to shut him off and in doing so, it allowed the Cowboys offense to get themselves going. The game started with both teams unable to get untracked offensively. On their third  possession Dallas got going and moved the ball, despite yet another, holding penalty. Dak hit Beasley with a 7 yard TD pass to get on the board. KC responded with a FG when the defense got the stop. Both teams failed to get anything going on their next possessions. This led to a wild and gut wrenching final few minutes to the first half. On Dallas's final possession of the half, following a sack, they were facing a 3rd and 17. They played it aggressively and Dak found Dez for 21 and a first down. On the next play, Terrance shook free on a broken coverage and netted 56 yards, to the KC 10 yard line. Marcus Peters was hung out to dry and looked like a deer in the head lights. This was easily Williams's best game of the season and maybe in his career, albeit in just a half of play. He was over 100 yards at the half and made several key first downs. His 9 receptions were on 9 targets! After two incomplete passes, Dak sat in the pocket. till he felt the pressure and took off to the right where he won the race to the goal line. When Dak ran it in, I know, I felt personally, that everything was going our way, with a 14-3 lead. Boy was I ever wrong!
Run @dak run! #KCvsDAL pic.twitter.com/5MJHpjGkR9

— Dallas Cowboys (@dallascowboys) November 5, 2017
It was unimaginable, unthinkable, and perhaps the most bizarre play I'd ever seen. There were all of  9 seconds left when the Chiefs got the ball. After a short quick pass, the Chiefs were at their 43. Now there were two seconds left in the half. Dallas set up to defend a "Hail Mary" attempt. What happened next was quickly named the "Hill Mary"! Let me preface things this way, in my days as a coach, I hated, no, I loathed the "prevent defense". Wonder how many of you were going to the concession stands or the kitchen for a slice of pizza, a few wings and a cold one? If you missed it we have it below. Dallas's defense was lined up with three down lineman and one linebacker about nine yards off the line. The balance of the defensive forces were positioned 40 yards away at the 10 yard line. Dallas was willing to concede about 45 yards making the play call simple. At the snap, Hill trails his TE and another WR and Smith hits Hill, who then prances and dances for a minute behind his teammates, then weaves his way thru the Dallas DB's with no time on the clock for the most improbably TD, I've ever seen. Why in the world was Sean Lee off the field, on this play? The half time break wasn't enough to comprehend this disaster. We were all stunned, shocked and dismayed!
The @cheetah!

Are you kidding?!?

TOUCHDOWN! ??? #ChiefsKingdom pic.twitter.com/1GtwrVBA6o

— NFL (@NFL) November 5, 2017
My first thoughts were what would be the mindset of the team after this calamity? If that wasn't bad enough, the Chiefs were getting the kickoff to start the 2nd half and a chance, which they capitalized on, to take the lead 17-14. I contemplated the possibility of Jerry terminating a coach or two, at halftime, after this debacle.
What happened from there on was an absolute "statement by this Dallas Cowboys team. They would be undeterred by the screw up. They needed this game, they all knew it and every man responded!
Dallas responded swiftly, with Dak hitting Dez for 10, followed by Zeke pounding away for hard fought yards. That heavy dose of Zeke, enabled Dak to run the read option for two big 1st downs. It culminated in Zeke banging it in for the go ahead score, 21-17. Given that KC's running game wasn't going anywhere, the old Andy Reid play calling returned with three straight passing plays on their next possession. On third and 10, David Irving sacked Smith to force them to punt. This gave Dallas free reign to put the game away, eat up clock and give them another dose of Zeke. Dak & company executed really well. Dak finished off the drive with his 2nd TD pass to Cole Beasley, who used some fancy footwork as he dove for the pylon. Now that 11 point lead was back in place, 28-17.
The next Kansas City possession was the high point of the day for the Cowboys. Every team talks about finishing and that's what Dallas did today. There were about eight minutes left in the game. Dallas was playing soft, keeping everything in front of them and yielding yards and a few first downs. On third & 6, Smith was sacked by, first round draft pick, Taco Charlton! A player everyone's been waiting for to make his presence felt. As time was slipping away inside six minutes, Reid elected to go for it on 4th down. Smith was under heavy pressure and threw his first interception of the season, with Heath stepping in front of the receiver. Both players have had some critics through the early part of the season, but today, they made a play, when needed most.
That effectively ended the game, but oh what a statement the Cowboys made in this game. The defense wasn't giving KC the bread and butter plays.  They stuffed Hunt from the start and some of the credit has to be directed to the play of Sean Lee. Does his return and that of Hitchens do wonders for the run defense? On the Chiefs first possession, their was a pass break up by Xavier Woods, that seemed to set the tone for the secondary on this day. They took away all the chunk plays, KC'd been piling up since week one. Their pass rush was forcing Alex Smith to get rid of the ball quickly & the secondary competed on every pass attempt. Chiefs receivers weren't getting open with good angles for Smith.
My keys for the game called for the D to limit Hunt on the ground, contain Hill at WR, rolling the D his way and keeping Smith from getting to the outside. They accomplished all three to the letter! They were terrific! Yes minus that one bizarre play, which I put in part on Marinelli, the other part on the DB's for failing to tackle Hill. One player that has had some tough moments the last few weeks, did a great job this week in containing Hill when in the standard base. That would be Anthony Brown, as he basically shut down Hill. People may not realize that he runs in the 4.35 range and was able to stay with Hill. Can't wait to see the All 22 as I want to see how the young safeties (Woods & Frazier) performed.
Offensively, it starts with Dak and he's been amazing each week with a near performance each week. He makes the throws he has to make and when he calls his own number to run, he gets big first downs time after time. His athleticism adds another dimension to an already nearly unstoppable offensive unit. His escape from the pocket was the game winner, but on 3rd and goal from the 10, that play was impressive. I'd thought Zeke would have a bigger day on the ground but other than a few plays, he was hitting them for a tough 4 or 5 yards, carry after carry. My player of the game was Terrance Williams! Not for the 141 yards, but for the first downs he was getting on most of his nine receptions. We have to hope the injuries to Dez & Terrance aren't serious and they'll be back for the Falcons next week.
This was without question a "statement" game! When you get two teams, aspiring to loftier goals, its almost a playoff type approach. It's the one that builds an incredible amount of confidence in the locker room going forward. Dallas knew they were playing a top offense, facing a highly efficient QB and the second leading running back. A team averaging nearly 30 ppg and despite the gift TD, they only posted 17 points. Dallas had their offensive struggles and still put up 28 points.
My apologies to the defense as I was envisioning a game with both teams in the 30's, yet Dallas coming out on top. To me, the statement they made today was that the real Dallas Cowboys are back! When you can play defense like they did today, every game can be won. Orlando Scandrick has a statement of his own, give a listen!
Scandrick telling folks to get on board…. pic.twitter.com/pLz6B7l5xr

— Josina Anderson (@JosinaAnderson) November 6, 2017