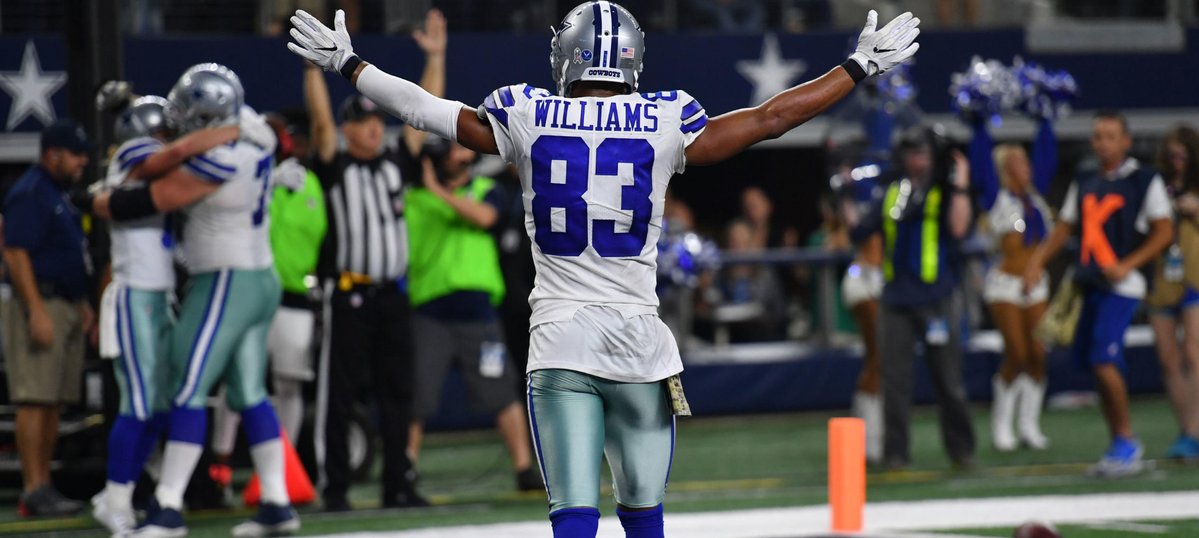 The real fun of the week after a win is to go thru the ALL 22! You're able to look at the units and learn why they had the success they had. We called this a "statement game and considering the way the team played for 59 minutes & 58 seconds, it truly was. We will report on all but those two seconds when they went into a trance.
We've added the "Tribute to Tony", down below, narrated by his BFF, Jason Witten.
Let's start with rolling back the curtain on the defense. They were absolutely terrific, lets look at the why's. Marinelli's getting the pass rush he's longed for and all the pieces are starting to fall into place. They've improved greatly since the bye. Always remember, "No D, No Rings"!
As a unit, they really played disciplined from start to finish. They held their lanes, their run fits were well executed, which gave Hunt, nowhere to go. KC's attempts at misdirection were a waste of time because of their discipline.
They put on tape their absolute best performance in tackling this season. They weren't taking bad angles. There were no appreciable yards after a catch.
Led by Sean Lee, they gave Kansas City nothing in the running game. The linebacking group of Lee, Hitchens & Wilson were outstanding in rallying to the ball carrier.
Chiefs tried running wide, however, Jourdan Lewis, Anthony Brown & Orlando Scandrick ended those plays with minimal gains of 2-3 yards.
KC tried a screen pass early in the game to Hunt and Lee blew that play up. Watching the ALL 22, Lee's eyes were locked on his assignment of Hunt and he hauled buns to his right and beat the OL from trying to block him.
Jaylon's in for fewer snaps but looking solid. On one play, he ran a delayed blitz and forced Smith to throw one away.
The secondary was in good position and with the pressure up front, Smith went underneath, time after time.
The secondary was outstanding in passing WR's to their teammates when in zone coverage or support in man.
Byron Jones had a few plays where he looked like a deer in the headlights. A few head scratchers on his positioning against Kelce. You don't want your DB's peaking a lot, but his awareness was dicey on a few plays.
We don't hear his name often, but Jourdan Lewis is quietly working towards being a terrific young CB. Aaron Rodgers got him, but few else. Doing this without really any preseason practices or snaps.
The defensive line was outstanding in this game and yes, with their fewest sacks in weeks. The pressure and how they applied it was terrific. They were very disciplined in their lanes and it never really allowed Smith to get outside. What they did do was apply constant and consistent pressure. Lawrence didn't have a sack but he was very disruptive as he forced Smith to unload the ball before he wanted to on numerous occasions.
The D Line used both 3 and 4 man fronts, What they did that was so effective was by keeping their lanes they pinched Smith and it prevented him from being able to step up in the pocket. They got numerous hurries, a few tipped balls and the sacks by Irving & Taco.
The Heath interception could just as easily have been Scandrick's as he too was driving on the ball. Heath has better hands, but it was a 4th down play and we'd have gained about 10 yards with Orlando, had he not completed the catch.
All kidding aside, Orlando Scandrick was outstanding against the run and pass in this game! If you recall my reports from Oxnard, I saw a healthy, confident and a really smart CB out there. Expected this type of game from "O"!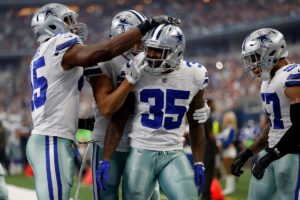 Need to give props to the punt return unit on two particular plays;
The first play was actually one where KC was trying to get cute and run a trick play. They were trying to make it appear as though Hill was going to field the punt in the middle right of the field. Obviously, Bisaccia's instruction to Chris Jones was to pin the ball to the left sideline. Kavon Frazier never left his position based on that plan, blew up the returner deep in KC territory.
The second play wasn't the wisest play in hindsight, but we all saw what can happen when the ball is in the hands of Hill. John Hanna was in coverage down the right side, equidistant from the hash to the sideline, using outside leverage on his blocker. Hill fielded the ball inside the five and Hanna brushed off the blocker and corralled Hill at the two yard line.
Now lets take a look on the offensive side of the ball. They were equally terrific in this game and one of the best coaching jobs I've seen from Linehan. I'm a huge fan of his work but it was something different that stood out to me in that conclusion. We saw KC from time to time make their adjustments to blow up a few runs. Well, Linehan and Pollack matched wits with them and made their own adjustments to get back to solid runs by Zeke. I saw a few people on Twitter not as pleased with Linehan early on in the game. If my math is anywhere near correct, the Cowboys have successfully scored TD's on 15 of their last 16 trips inside the red zone. Dak is 15 for 15, Cooper Rush 0 for 1! They were 4 for 4 vs KC!
The offensive line was excellent in giving Dak time to survey the field and the WR's time to run their routes.
Travis Frederick is special to watch as he takes control and command of the middle of the pocket. Special player.
Watched Jonathan Cooper very closely and he had a really solid game. He works very nicely with Travis in both pass and run blocking. Several of Zeke's longer runs came off of Cooper's blocks. On one Coop, made an initial block, handed the defender to Tyrun and moved to the 2nd level which allowed Zeke to get skinny and bust through for a nice gain. Coop did have one play where he got overextended in a pass set, but Travis cleaned up his mess, no harm.
Watching the O Line running a play using a zone scheme is special with a back like Zeke.
La'ell took one of the games well known pass rushers in Houston and handled him rather easily overall. He was beat to the inside a few times on running plays, so that needs to be corrected.
Zeke was very good in grinding out the yards, with numerous tough runs. On that run, where he got skinny behind Coop, Zeke showed phenomenal patience waiting for that hole to be created. We all know Zeke is special but watching the ALL 22 gives you a seat and view of him that allows you to see how truly talented he is. He knows when to put his foot in the ground and go. Watched a toss to the left where he was out there quickly and waited for his O Line to set up their blocks. It's a skill and art that can't easily be taught.
Do we take Dak for granted at times? He makes all the throws he needs to make and his athleticism enables Linehan to get him on the move with great results. Many of those call for Dak to roll one way or the other where he makes simple passes to convert those third and short situations. Dak makes 3-4 special plays with his feet every game. His read option work is second to none, due to his ball handling skills throughout the game. He's now played 24 NFL games and has 10 rushing TD's.
KC had one good CB in Marcus Peters and Dak abused him in this game. There was one throw which I had to watch 3x, it was so good. He threw a pass to Dez on a comeback about 15 yards down field. along the right sideline. Peters was about 6′ from the sideline playing zone. Dak threw from the middle of the field and really stepped into the throw. I thought Peter's might have contested or knocked down the pass, but he never got close.
Beasley wasn't called on often but he is great to watch with how he sets a defender up, for the route he wants to run. His first TD, was a repeat from the week prior. The defender had no shot to stop it.
Where do I begin to describe the performance of Terrance Williams? No question that this was his best game of his career! He was targeted 9 times and had 9 receptions for 141 yards. Most of them produced first downs in key third down situations. He had a 50+ yard reception late in the first half where he left Peters in his wake and was seven yards clear. Dak had to get out of the pocket, spotted a wide open TWill, along the right sideline.
.@TerranceWill2's performance against the Chiefs put him among the @NFL's elite. pic.twitter.com/kon6cORXEn

— Dallas Cowboys (@dallascowboys) November 9, 2017