What better than getting your offense to fire on almost all cylinders while your opponent can't get untracked? That was the case on Sunday afternoon as they efficiently dominated Jacksonville, 40-7. This game was essentially over after the third Dallas possession that pushed the lead to 17-0 on their way to a 24-0 half time lead. We were mesmerized by the efficiency of the offense, but we need to acknowledge the consistent play of the defense. More on them later! My pregame column was praying for a 17-13 win, with Zeke being the difference in the game. Zeke got 106 yards on 24 attempts. A ho hum game for him so to speak, but hardly the factor we normally come to expect. Even his TD from 15 yards out was ho hum, as you knew when he hit the 5 yard line, that he was getting in the end zone.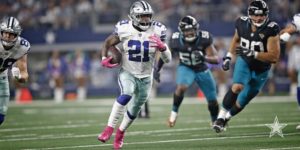 I apologize, but I took it for granted feeling no one was taking him down with the hole that he hit. Who had the guts to stop him from scoring? I don't want to take him for granted, but he's that good that it all looks so simple. This team isn't built or designed for many blowouts, but it was really nice to sit back and enjoy the victory dance with two quarters to go in the game! We don't normally get to breathe during a Cowboys game, so this was really sweet and to be savored! It was nice to have some swagger back in the house ……
True, I've been riding Dak's shortcomings pretty hard the last few weeks, but on this day he was really "the" major factor offensively in the win. He made one throw that almost on its own, opened up the Jags defense in a single play.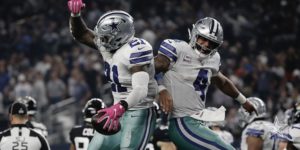 That was the 27 yarder to Michael Gallup outside the numbers on the left side. It was a great adjustment by Gallup to grab the throw on his back shoulder. When you can make that type of throw, it forces the defense to spread out their coverage for fear they'll be paying a big price. From there on, it was Dak and his legs that became the story of the day. Whenever the pressure came, he stepped up and out of the pocket for first downs that just tore them up. On the Boys second possession, he bolted out to his left culminating in a 17 yard romp to put the team up 10-0.
Here are a few game highlights just for kicks ……..
FINAL: @dallascowboys DOMINATE! #JAXvsDAL #DallasCowboys pic.twitter.com/0Ke0m5pKbL

— NFL (@NFL) October 14, 2018
When Dak needed a play in the passing game he found Cole Beasely running free, despite all attempts to corral him. Prior to hitting Cole for their first hook up worth 6 points, Dak, off a boot, found Rico for a nice 15 yard play. It was basically a vertical route just outside the seam/hash, which again spreads the defense and backs them off loading the box with impunity!  
They tried bracketing Cole, even using a 9 man zone coverage on the play that netted Cole's 2nd TD reception, to no avail. Their vaunted defense, top ranked in the NFL coming in, didn't look the part, on this day. I attribute that to that pass to Gallup and Dak's escapes that broke them down early and often.
Linehan and Dak had them grasping at air, down after down. Linehan used several plays, that hadn't been seen previously, all with misdirection, that while not being game breakers, did have the Jags pointing at one another at different times. The game plan had them running twists to almost every play or so it seemed. There was one route that Tony Romo pointed out where Zeke ran a vertical route, broke right diagonally and headed toward the flag. Dak never gave him a look, but Zeke was totally uncovered. That was the play prior to Dak running it in from 17 yards out, so all was forgiven. But we hadn't seen that route previously, but it was wide open.
On this day, it was as much about Beasley who pulled in 9 balls, broke 100 yards and hit pay dirt for 2 TD's. Bease had over 50% of the completions from Dak in this contest, which was a bit of a concern for me, but I'm a believer in feeding the "beast" when they can't cover someone or are unable to stop a certain running play. If you'd have told me that the receiver with the 2nd most receptions with 2 was Geoff Swaim, I'd have been deeply concerned. But not this day! When your QB takes off and picks up first downs to keep drives alive, good things can happen and did, in this battle. There are a lot of props in a game like this but the one thing that bothered me in a greedy way, was that with the big lead, I wanted them to take two shots deep. I didn't care if they completed them or not, but just an indicator to future opponents, that small ball wasn't going to be the only way this team operates. Maybe its just me, but I'm all for spreading defenses to the max, sideline to sideline and 50 yards vertically!
All the hoopla seems to be on the offense, but lets give a ton of love, to the defense! They were excellent in this game. I know, I know, its Blake Bortles at the helm and they were w/o Fournette. True on both counts, but you still have 11 men trying to do their job against your 11 men. We are witnessing some outstanding linebacker play from Jaylon Smith and Kyle Vanderesch week after week. What do they do when Sean Lee's ready to play? What a great problem for this team to have. These two are flying to the hole and are really bringing quality pressures on passing plays. After missing preseason snaps, I can't say I expected this production and play from KVE. He's got all the makings of a really good linebacker! Its great to see Jaylon playing at such a high level as well, after giving it is all last year when needed and when his knee wasn't 100% yet. When I first looked at the boxscore I was miffed that neither KVE nor Jaylon had 10 tackles but then reality hit that they only had to play 47 snaps! Let that sink in for a minute …… Here are some great clips from Brian Baldinger highlighting these two young linebackers in action:
.@dallascowboys @thejaylonsmith @VanderEsch38 are quickly becoming a dominating inside LBer duo playing all 48/48 snaps accumulating 19 tackles between the two young players. Sideline2Sideline. #BaldysBreakdowns pic.twitter.com/MlbHfv1Ldy

— Brian Baldinger (@BaldyNFL) October 15, 2018
Chido was out and we saw solid play from Anthony Brown in his place and Jordan Lewis getting snaps and producing too. Lewis's fumble recovery on the Smith strip was outstanding by a whisker as he got possession before his hand hit the white chalk on the sideline. Or how about the return of Maliek Collins netting a sack and one by Randy Gregory, which kind of went unnoticed by the announcers. That was big, for Randy's confidence going forward. He doesn't get a lot of snaps, but getting that sack, puts the arrow in an upward path.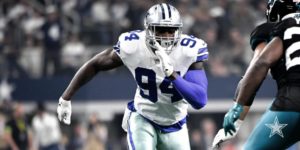 This game marked the return to action for David Irving who provided several big time pressures early in the game, helping to set the tone for the game. The play of Gregory & Irving providing pressure was very helpful in that Lawrence was limited with shoulder problems. Wouldn't be fair not to mention the play of Byron Jones who has just been outstanding in limiting anything his way. Would you believe that there are only 2, yes just 2 teams giving up less points than the Cowboys? Ravens & Da' Bears, that's it. Let that sink in for a minute. That's a big signal that they can be in any game, because of their defense. It's really what I'll be relying on going forward. Our offense still is a concern, but can survive with a top notch defense. Need a few more game changing plays, but we're moving the unit in the right direction.
A poor decision by Bortles throwing into heavy coverage gave Jeff Heath an easy pick that set up the offense at the Jags 8 yard line. Unfortunately, it only led to yet another FG by Mahler, who admittedly has been rock solid and making the release of Dan Bailey a non issue at this point in time. Two turnovers in the same game, how sweet that feels. Would be nice to get a few this weekend from the stingy Alex Smith down in Washington on Sunday.
This victory against the Jags, evened the team record to 3-3. Now were showing consistency with 3 wins at home and 3 defeats on the road. Question we have is, will this Jags game right the ship towards a road performance that can bring a win in the nations capitol? This battle is a huge game as we sit a half game behind the Skins & we're tied with Philly. We have to perform in NFC East games if we want any shot at the postseason and we so desperately need a road victory. No time like the present. This is a game the Boys must have! Philly's just prancing along with a SB hangover while Wentz gets healthy. Having to start the season with Foles kept everything close, but we're nearing the midseason point, so this is a huge game for Dallas. You don't want to go into the bye week without a victory! You'd feel helpless coming off a loss with an inability to better your position while others play. Therefore, bring everything you've got and get this win. I'll go with a solid win on Sunday in DC, 27-16 over our rivals. A late score will be the deciding factor stemming from a defensive play to set up the margin of victory! But we must see the offense keep mixing things up, going vertical to spread them out.
So was it Trick or Treat that we saw this past Sunday? Time will tell but it was just one of 16 must wins in a season. The team needed to right the ship and for the moment they did that. Its funny, but only two teams have more wins than the Cowboys do in the NFC, the Rams & New Orleans. Go figure …… Different season, a winnable season ….. so why not take it
You tell me, is the Swagger Back?
WE ALL DOING THIS NOW#DallasCowboys #CowboysNation #Cowboys #NFL

— Dallas Nation (@Dallas__Nation) October 14, 2018