Earlier today (9/13), a friend of our site, @thegametimeguru (Shane Larson) was excited about the game and our Cowboys defense. Plenty of reason for optimism and excitement, no doubt. We exchanged several tweets and it led to the this question, was it our defense that was great or was ole Eli, just that bad? We could write it up as a fan, pretty simple, right, but can't bring you something without real proof. Visual proof!
Because the tape doesn't lie, I spent the last few hours replaying mostly the defensive plays. I did cheat and watch the offense too, but sped that up and didn't replay it 3 or 4 times per play in slow motion as I did with the defensive snaps. If you don't have NFL Game Pass with the ALL 22, I do recommend it.
Happy to report that for most of the few snaps the Giants had, the "D" was rock solid. Yes, the defensive line was facing a weak offensive line, but really there are many teams that aren't strong up front. This crew (OL) dominated the Giants early and often and they did compel Eli to get rid of the ball quicker than he'd like. DLaw got to Eli early and the Boys just kept applying  pressure, making him move off his spot. The guys up front choked off the run and everyone took their turn making tackles. Tyrone Crawford clearly wasn't 100% but given a little room closed fast to stop the runs away from him. Collins & Paea were pushing the pocket, making Eli uncomfortable. Tapper got a sack and I read somewhere that it was a coverage sack, but he made a nice counter to the inside of the LT and was on Eli in a heart beat in their red zone series. On closer look, Benson Mayowa should have been credited with a sack but the stripes blew the call. Eli's knee was down. It was in garbage time, but you like to see the effort rewarded and the defense gaining respect. Our linebackers and DB's were in zone coverage the whole stinkin' night! There was one play, where in Cover 2, there's a hole in and its the medium range, 15-20 yard, deep out. They hit it once on their first drive of the 3rd period for the good gain and never went back to it again?
I don't think they ever gave them a man look the entire game. Most of the time, they switched beautifully in zone coverage, releasing the WR's to the next guy, on point. That made it a long night for ole Eli. Now, to be fair, Eli had his chances and really never took them.  He might have needed less than a second, which he had, but he didn't take it. Early on, he just wasn't cutting it loose and going where he should have. On one play he had two guys to the right side, coming back to him with 2-3 yards of separation and he again, didn't take the gimme. He settled or tried for the check downs, which the Boys were clearly giving them. There were at least four plays, where, in my opinion, he went to the wrong WR. He makes about 18M more than I do as the QB of the Giants, but I call them as I see them! He had WR's in good site lines and didn't let it go and he'd go for a more difficult throw and well, his accuracy isn't his strong suit as some may be aware of. He struggled more than usual when facing the Cowboys, but on this one night, the DL moved him side to side and he wasn't able often to step up in the pocket.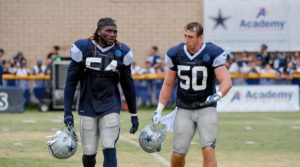 Frankly, I got the impression that Eli was rushing himself, if not outright panicking in the pocket. He had those "happy feet", like Jim Everett of the Rams, a few decades ago. Now to be fair, just a little, there was one or two Cowboys that made his life miserable in that back seven. That would be Sean Lee and Jaylon Smith. We'll start with Sean Lee, as he just kept reading where Eli wanted to go throughout the night. His positioning made things much harder than how the plays were designed to go. Talk about a guy shutting a window in coverage that was Sean Lee! Do we really need to mention how fast he reads a running play and blows that up? His positioning on a few pass plays was so good that if Eli throw the ball well, then Mr. Lee would have had himself, one if not two picks. It got to the point where even with a WR in good position to receive a throw, Eli wouldn't throw into Sean's area!
Jaylon Smith, where do we begin? My expectation was that they would try and test him in pass coverage, especially if they could isolate him on a RB or TE. They did put him in position several times to have to pick up guys coming his way and he did better than I expected. On one play, the TE came across the middle and when Jaylon shut off the route, the TE went into that deep middle. Jaylon had to gather himself a little but hung with the TE and obviously nothing came of it. More importantly, Jaylon was tested and did well in base, when called on to cover his area. What was a little noticeable was that he plays about a half yard deeper than Sean Lee and while they were generally very close to one another in alignment, its noticeable how much faster Lee reads the play as compared to Jaylon. What's great about that is with more snaps, the instincts will return, just like that nerve in his leg!
Another thing about Eli's bizarre night was that he'd go after Chido in tight coverage but wouldn't take the more wide open guys in and around the middle of the field. Chido was solid, but Eli went after him, even when the receiver was bracketed in zone coverage. Found that strange but we're talking about Eli. If you remember that play where Eli went to Brandon Marshall in the left flat, where he appeared to be wide open, given that Chido got tangled up with the WR and went down. Had that not happened he'd likely have released the first guy and picked up Marshall. What you didn't see is earlier in that play, Eli had two guys that were open by a few yards at different points in the play. However, he didn't go to them, then threw in front of Marshall and it fell incomplete. Just another strange play on Eli's part.
When Eli got picked by my Pet Cat from last season, Anthony Brown, Eli tried fitting it in and still threw it behind his guy but beautifully into the hands of Brown! Speaking of Brown, on the ALL 22 on the one scoring drive for their measly three points and #30 was coming on a blitz and jumped up to block the pass. The RT put two hands firmly into the face and head of Brown, then followed it up by nailing Brown with a belly bump from behind. Clearly a frustrated player, but no call on their OT.
The safeties were solid all night and the broadcast never spoke their names. Eli never really went their way, with everything really being underneath. They did their part in picking up the WR's and Eli never tested them. That one completion I wrote about earlier for twenty yards early in the third, that was on Kavon Frazier, who didn't come over and close that window in a timely manner. Final answer: The Defense was terrific and Eli was Eli, the below average QB he's been most of his career. The numbers in his career bare that out. He will still make the HOF, with dad and brother. Outside of two really good eight game stretches in his career, he's less than average. When he had a great defense he was able to get the job done in their SB runs!

This piece is supposed to be all about the DEFENSE and deservedly so, but in cheating and watching our offense there are a few things I have to share or ask you. Did Olivier Vernon actually play in this game? Did Vernon wave a white flag? Did Vernon quit? Frankly he should have been pulled from the game or at least given back his game check! Tyrun Smith locked down Vernon, in his tracks time after time early in the game. Vernon only put in a genuine effort when he went inside on the opposite side, to go against Zack or La'ell on twist stunts with JPP. He got a sack by ducking underneath Zack's arm on one play. It was strange to see and harder to believe. The fact of the matter was that Tyrun Smith is incredibly sound technically and is almost always in the right position, the correct angles and very strong. We're probably at the point where we take him a little for granted, the All Pro, the Pro Bowl LT, perhaps the best OT in the game today. His positioning was that good, that Tyrun took the heart from Vernon and by the 2nd half Vernon was content to engage Smith, but not make a real effort to get around or thru Tyrun. Smith was content to accept the white flag from Vernon.