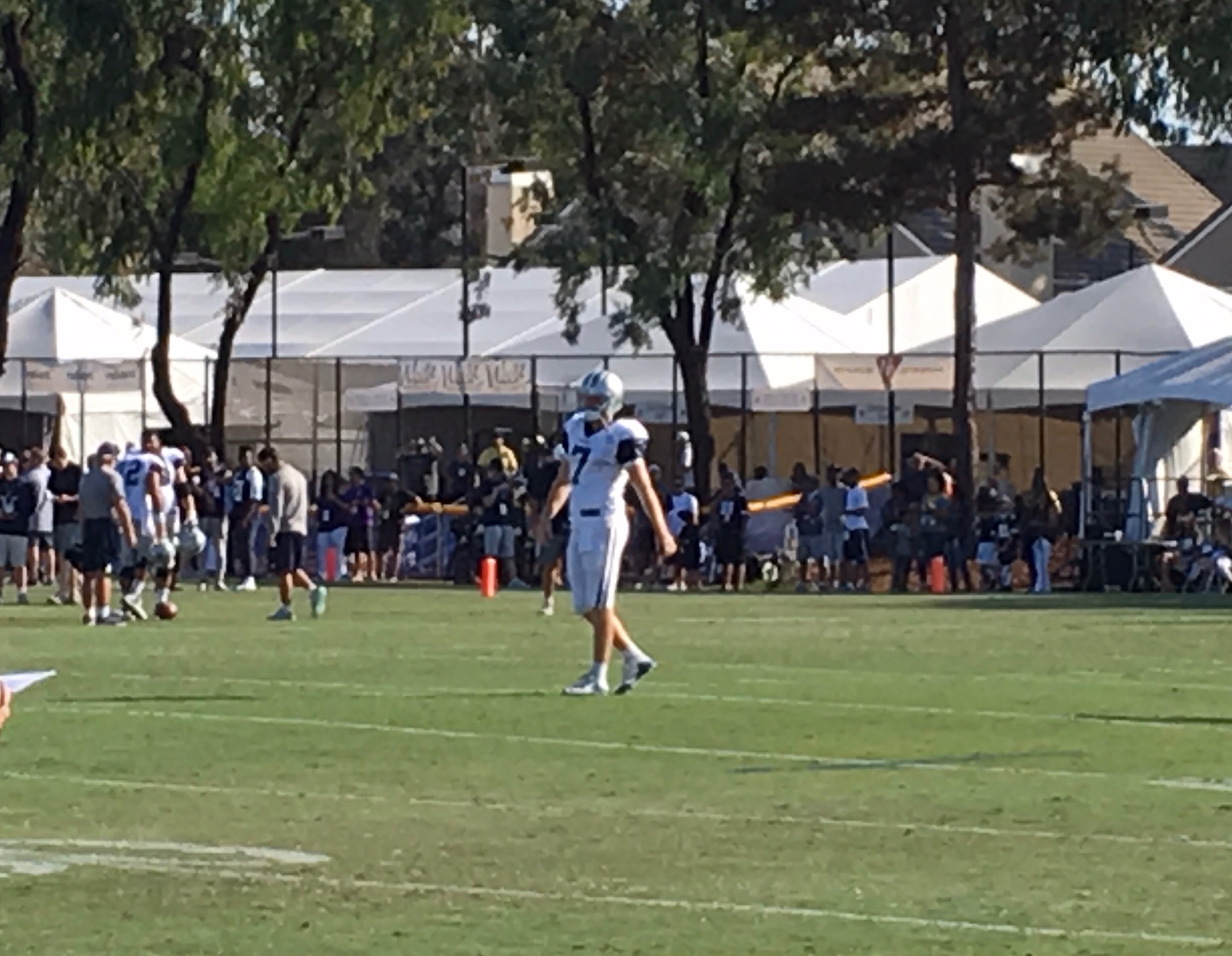 Different night, same results for Cooper Rush! He's certainly making the decisions at Valley Ranch excruciating ones and that's what training camp is supposed to be all about. Garrett speaks all the time about creating competition, the best player at a position, etc.  Well, if that's really true and he's not just blowing smoke up our shorts, then has Cooper Rush done enough to make Garrett & Linehan take a seriously hard look at the back up QB position? On one hand, we know there's a value to a veteran QB in the NFL. Teams are starving for starting QB's and when it comes to the back up, the herd is paper thin.
There's no way that I want to see 3 QB's on the 2017 roster! Especially when we wouldn't want to see two of them ever take a meaningful snap. A spot on the 53 is sacred. We need to keep players that provide solid depth at various positions and we're obviously juggling the rosters after weeks 2, 4 & 6, due to suspensions. We have to keep as many quality players that will be on the 46 each week and a 3rd QB will not fill one of those spots. Its a luxury we can't afford.
In watching the twitter universe during the game, its safe to say that the majority of tweets I read, that "Moore is Less and Less is Moore" was the common theme. People were clamoring for Rush to come in and get things rolling again following the fumble and the failures on 3rd down.
Here's a question to ask yourself today. If Cooper Rush were released how many teams would put in a claim? If Kellen Moore was released how many teams would put in a claim? We'll come back to this later as part of the conclusion to the case.
Now for the Case for Cooper Rush as the back up!
He's shown thru three games that he's more mobile and an ideal fit for the current, Dak friendly, offensive system  He can run the option, waggles and bootlegs. This would limit the need for changes to the offense and the play calls. The offense doesn't have to shrink as it does around Moore.
Rush has looked outstanding for three games, playing with the 3's
Rush's performance thus far is with far fewer reps than Moore
Cooper obviously has a better arm to stretch the field than Moore
Rush is already signed to a 4 year deal and offers the opportunity to fully develop the real back up of the future
WR's have to like the ball getting to them quicker, no alligator arms! Cooper zips the ball instead of those thrown behind the WR's as the passes lack pace from Moore.
He's won the same number of games in the NFL as Moore can't be dismissed
Cooper's demonstrated that he can make all the throws which not every back up can do
He shows the poise to run the offense & the composure to stand in the pocket. Too many of the wannabe QB's suffer from happy feet and struggle to set their feet properly. Not the case for Rush. He looks in near total control
Rush has shown an ability to complete a high percentage of attempts in spite of the 3's on the OL in front of him
He's at least five years younger, with clearly a greater upside
If Cooper was released, he won't clear waivers to return to the practice squad
The Case Against Cooper Rush
As a rookie, he lacks NFL experience
He's only played against the 3's thus far in preseason and not being judged against the better skilled opposition
He wasn't expected to play this well after a sub par senior year in college
He was likely expected to be a practice squad option at best, or a camp arm at most
His scouting report per Dane Brugler reported a below average arm
Scott Linehan will pound the table for Moore
There are those who would argue or claim that the team can find the next Cooper Rush, next year
If Dak were to get hurt, then the team would likely go out and look for a QB with better chances of winning rather than Moore or Rush.
Ok, now the follow up to the question on what would be the outcome of releasing Moore or Cooper, as it raises a myriad of questions. Two years ago no other team had any interest in Moore when he became a free agent. Has anything changed based on the tape he's put out there during his time with the Cowboys? There was the one game against the Redskins that stands out, but is that enough that anyone snaps him up? When I was at camp ten days ago, his lack of arm strength really had me concerned. By contrast after three games, we're not seeing any way that Rush makes it through waivers.
It's a real dilemma, that your proclaimed veteran back up, Moore, is a player that no other NFL team likely wants. Yet your #3 QB stands a greater chance to be claimed or even the possibility a team dials up Jerry for a trade. Does anyone find this telling on what options you need to consider?
Would you be willing to waive Moore at the end of camp and take the chance that if an injury happened that you could bring him back at a later date? Would you take that risk or find another back up QB who's languishing on the couch waiting for a call?
The teams public position is likely to be that Moore's our guy, but behind closed doors one has to believe that a discussion is taking place. These are coaches that got where they are by being talented observers of talent & ability. Will McClay & the scouts are likely to be brought in for their evaluations of Moore & Rush. This position battle will linger for another ten or so days but these discussions will take place! There are two more games to be played and they will be pivotal in the final decision. Rush may only get a quarter next week or its possible he gets the whole second half. The final preseason game he's likely to get the full sixty minutes.
We shouldn't expect any drastic change being announced tonight or in the coming days. We hear the, "it's a process" with the Cowboys and this is surely the case here.
Tonight's QB stats were provided by David Helman and in his usual style states, that no further commentary is needed. That sums it up well for all of us!
Presented without commentary pic.twitter.com/vMwoVFbs2x

— David Helman (@HelmanDC) August 20, 2017