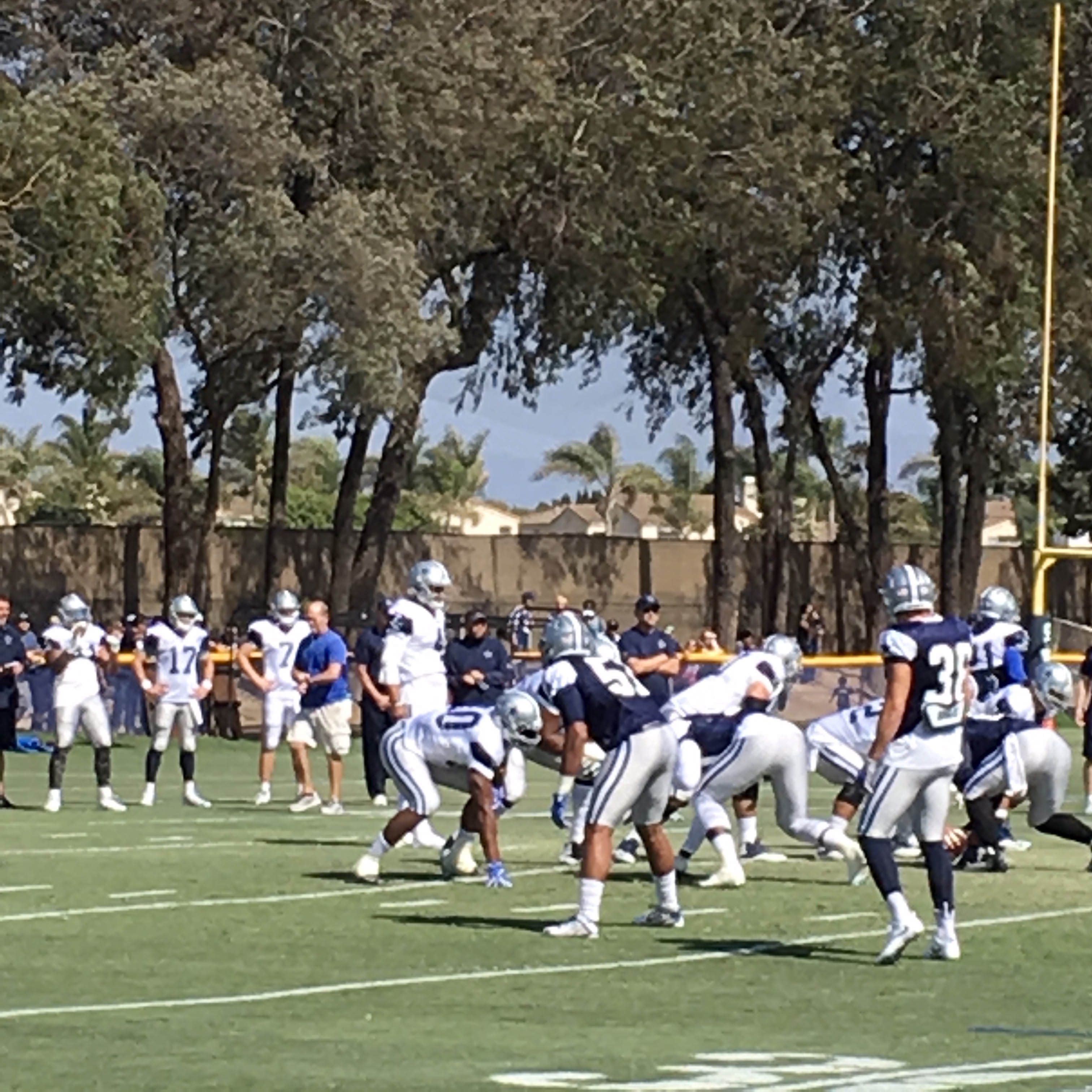 Tonight the Boys played the Colts at home and it really wasn't a competitive game. Finally, we got to see our starters out there and they didn't disappoint. We opened on offense and talk about a well oiled machine! Dak led a flawless drive, alternating between handoffs to McFadden and hitting Dez, Beasley & Witten without the ball touching the ground. Dak scanned the field and came back to Dez on the left, with a back shoulder indefensible pass, good for the opening score. Dak was outstanding in his preseason debut. Dez sent a message to CB's around the league, I'm healthy & good luck stopping me …..
.@Dak
+ @DezBryant…
Yup. You know what happens next.

Got 'em! #ThrowUpTheX pic.twitter.com/VUxqSA29OO

— NFL (@NFL) August 19, 2017
A big part of the narrative for tonight was the anticipation of the return to the field for Jaylon Smith. His first game action in 595 days according to Bill Jones. After seeing him in camp, filming his snaps (posted those earlier today) and rooting for a fine young man to return to the game he loves was special. He had several shots at tackles in the backfield but either overran the play or was a tick late on the arrival. No matter, we saw the instincts and burst to hit those holes. The angles may have been slightly off and his cutting ability may be limited. It was a 3rd down play with a check down by the Colts to the TE where Jaylon got his first tackle, followed by his trademarked, "Swipe". Enjoy the clip!
.@thejaylonsmith makes the STOP! ? #INDvsDAL pic.twitter.com/3FPtALCFIh

— NFL (@NFL) August 19, 2017
There were any number of story lines tonight, but two guys have to be mentioned and that's the Smith Brothers, Jaylon & Rod Smith! Jaylon had all eyes on him leading up to the game, yet it was Rod who tore it up tonight. He has been terrific all through camp, had a quality performance in the HOF game and tonight he had his baby brother jumping up and down as Rod was ripping off runs of 10, 15 yards seemingly at will. There's little doubt that the brothers who share the numbers, 4 & 5 on their backs, by all that is visible, will fulfill a dream to play on the same team together, something that's eluded them till now. Rod was clearly one of the "star's" of the game. The running back trio of McFadden, Morris & Smith all had solid nights, posting between 49 & 59 yards for each.
Brothers#INDvsDAL pic.twitter.com/kdduilbBNu

— Dallas Cowboys (@dallascowboys) August 20, 2017
Can't complete the story of this game without the performance of Cooper Rush. He's been on fire since these games started in preseason. What started out as a position that had no competition when camp started, well, its certainly a discussion this evening. We posted a story a short while ago, The Case for Cooper Rush and does he make the 53.
As long as we're giving out props for the players, how about we look at the defense. Until he got dinged up, Orlando Scandrick was making his presence felt in the 1st quarter. PBU and on the blitz he deflected a pass attempt. He's healthy and looked great in camp, this was no surprise performance. Been writing about his return to form for some time now. Our 1st round selection made his presence felt as well. Damontre Moore had several plays he got in on including a sack where he threw up the "X". David Irving was consistently creating havoc, which hurts knowing we're without him to start the season. Every time I looked closely, seemed like Damien Wilson was in on a tackle. Kavon Frazier, came up and made a tackle in the backfield with Moore for a loss. There's a player that keeps showing up on my screen, did the same in camp and gets little or no mentions and that's #43, Gilchrist. Not seeing a place for him on the 53, but take notice of him for yourself. There was a new cat in the game, Butler, who got in during the 4th period and held his own and made several tackles. This time last week, he wasn't in camp, a new signee, yet there he was making tackles at weeks end!
This pressure below, by Taco, was against Anthony Constanza, a veteran starter in the NFL! He didn't do this against a 2nd or 3rd teamer for the Colts. Charlton built on a good game from last week, exactly what you want to see in his development. A few plays later, he caused the tackle to reach out and grab him and the OT was flagged for holding. Not a sack, but a 10 yard loss is a great substitute for one!
Taco off the edge pic.twitter.com/mJjPqG5yey

— Patrick Conn (@DraftCowboys) August 20, 2017