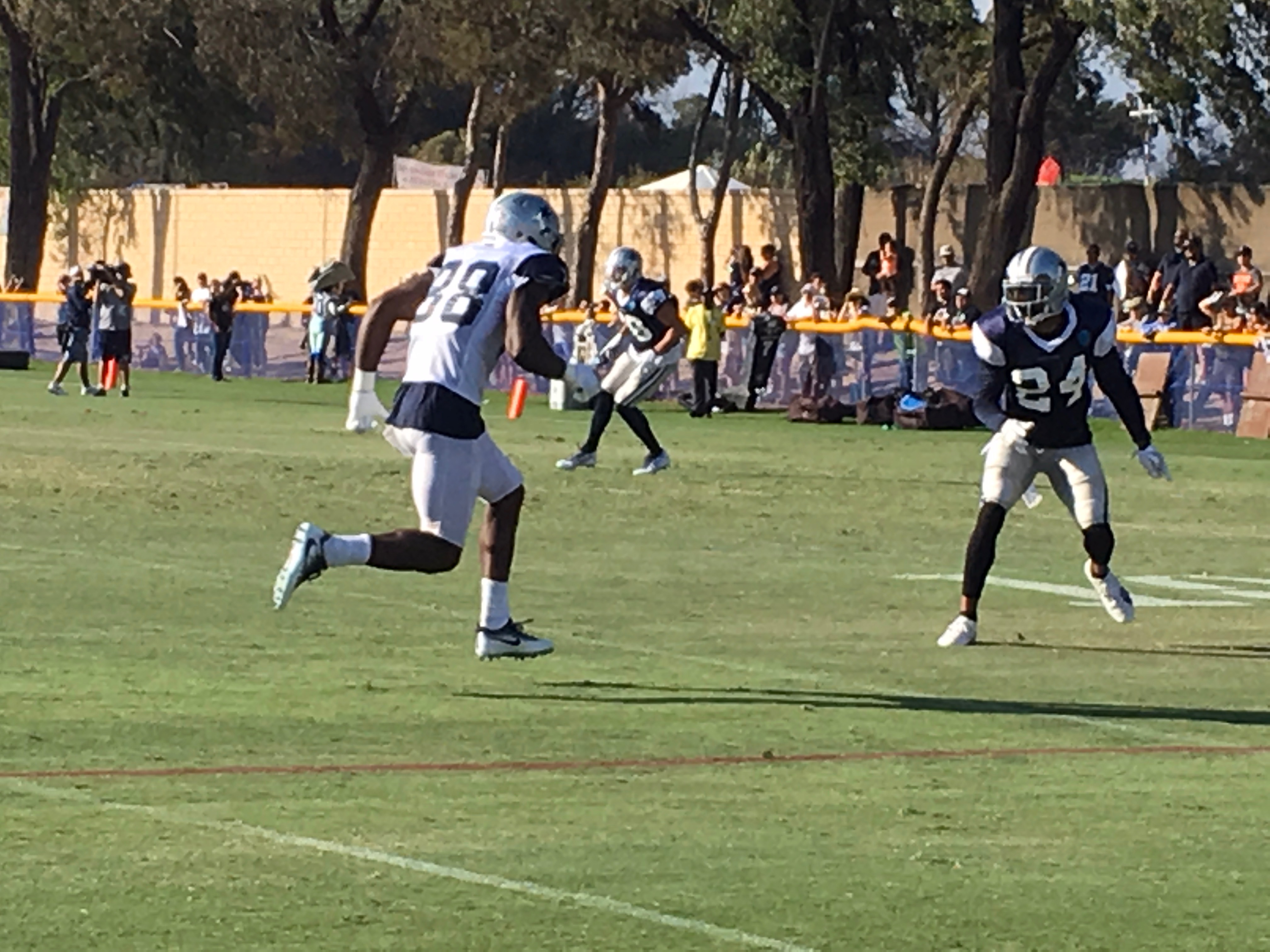 Tonight's game against the Raiders is a unique opportunity to assess the team and individual players given the quality of our opponent. Rare that you'd meet a playoff team in the dress rehearsal game.
POSITIONS TO WATCH
The first spot that we've been watching all camp & preseason is left guard. Its been a two man race from the start between Jonathan Cooper & Chaz Green. Cooper is a former first round pick. This is easily his best opportunity working between two All Pro's. He seems to do an adequate job in the running game but struggles in pass protection. When I look closely or in compete periods he can get bull rushed far too easily. Green is our third round pick from two years ago. Key is health with Green and he's rarely able to stay out of the training room. Can they trust his health to be given the starting job at guard? From what we can gather with camp, he's their first choice at this spot. A problem that also exists for the team with Green, is that, he's the best option at swing tackle. The Raider game is likely to provide the results to finalize their decision between these two. From what I saw at camp, was that Green is stronger in the run game than Cooper & more stout in anchoring down in pass protection.
We've got a position that has two veterans slated to be one of the starters, yet neither has stayed healthy in camp. Talking about the one technique at DT. We have Cedric Thornton and the off season addition of Stephan Paea. Thornton was on cords while I was in Oxnard, meanwhile, Paea was making noise on a daily basis. Then Paea's knee would swell and he'd be sitting out practices and games. Hoping some of this is more precaution than real issue with him. At the moment its Paea who's practiced most of the time and expect him to be the starter, yet tonight should give us an indication of the teams thinking. The draft choices of Ivie and Carrell haven't made much of an impression thus far.
The secondary is a position group that has its issues and the Raider game won't exactly clear it up. We drafted four players for the back end and all of them have missed time in camp. Jourdan Lewis hasn't practiced yet. Awuzie looked good early and been out since. White looked good early then caught the hamstring epidemic and Woods after having a solid game against the Rams, was stung by the dreaded hamstring too. Awuzie & Jourdan will make the team regardless of not seeing them much here in the preseason. Woods off the Rams game will likely make the 53. White appears to be in a dogfight with Duke Thomas, who's flashed as both a CB and on ST's. Given that these four rookies are still struggling with their injuries, does the team have enough CB's to go into the Giants game? At the moment, it's Carroll, Brown & Scandrick that will be the starters, but you need at least two others to dress and contribute in nickel and dime packages. If the rookies can't go, then we're looking at Thomas, McFadden, etc. Tough situation for the defense to be dealing with this late in the preseason. I'd get these three out of the game quickly tonight, can't risk any further injury's at this position.
Did a story last night on the backup QB position that just may not be a battle with the three guys currently backing up Dak.
PLAYERS TO WATCH
The first player to watch for me has to be Jaylon Smith. Last week he got all the attention and this week, nothing. Getting that first action & tackle last week was crucial in giving him the confidence and to see the speed of the game once again. Broaddus reported that this week in practice he was planting that leg in fighting off blockers, something he hadn't been doing before with any regularity. The great thing now is to look for the incremental improvement week to week. That is what should be exciting to us in watching him.
Always keep an eye on #88, Dez Bryant! Makes those amazing catches you don't want to miss. Never miss greatness when you can!
Next up for us has to be Ryan Switzer! Got to see him in Oxnard where he took a little outlet pass, darted around and between defenders for a big gain. This would be his first game action of the preseason. Would like to see him get a few chances on punt returns against the Raiders. Hopefully, he'll get a few snaps and targets on offense to showcase his skills. After the season ending injury to Edelman, does NE call us for a trade for a WR? Belichick likely wants a veteran WR, but we have depth at the position that may interest them.
A player that really impressed me during my time in Oxnard was Demarcus Lawrence. Tonight we're going against a quality offensive line, one rated right there with ours. This matchup can serve to show us what may be in store for him/us this season. Benson Mayowa is another player to watch, he's having a good camp. In fact, watch two other DE's, Damontre Moore and our first round selection, Taco Charlton. Both have done well in camp and Taco in particular has had sacks & pressures the last two games.
I couldn't put this position up top, but there's a player fighting for a spot on the 53. Although we don't need a 6th WR, Noah Brown has had a very good camp and done well in the preseason games thus far. He's probably had one of the better camps of any WR trying to slide into the 53 in several years. Switzer hasn't seen any action thus far, yet he's going to be on the 53 regardless. My concern for keeping Brown has several components to it. First for a team that is keeping two WR's, albeit slot receivers, they are both only 5'8″ tall. Brown is a big body, 6-2, 22o, more in line with Dez & Butler. My view is more long term, as I see him being our 5th WR next year. Brice Butler has had a terrific camp & preseason and is primed for a big season. Butler is perhaps our fastest WR and is doing a very nice job of creating separation off his breaks. If he has the season I'm anticipating it will be difficult to keep his services in the free agent market. Brown appears to be a good candidate to take on Butler's role the next three years. As a blocker, Brown is well above average for a WR.
Just for the fun of it, there's a treat coming tonight and that's watching Zeke Elliott get a few snaps. Watching him in camp, you see just how different he is compared to his fellow RB's. The difference is amazing and watching him on pass routes, he's virtually unstoppable. Simply a unique talent at his position.
Enjoy a good matchup against the Raiders!