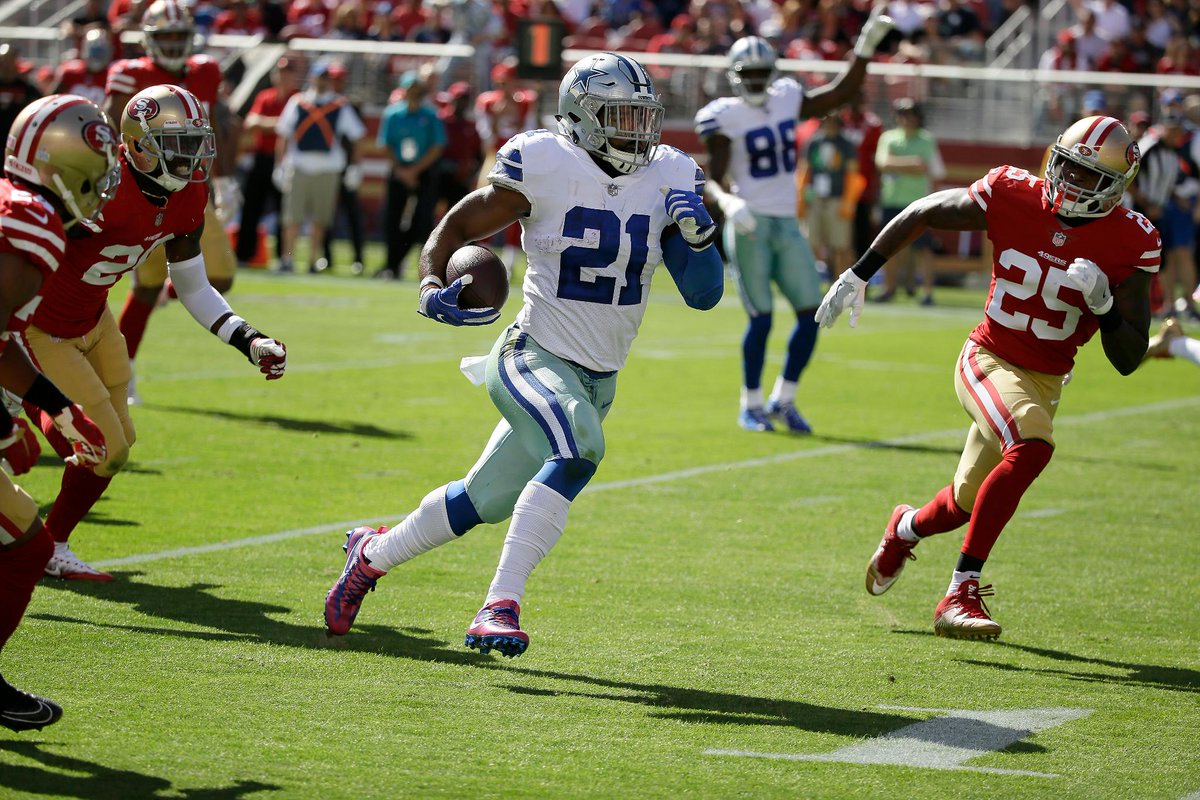 I'm sure you've all heard Zeke's in the building again! He's actually allowed to be back. It's got to be wearing on him, his family, the team, coaches & one special owner! This wasn't a win on any legal issue, its just a stay until an actual hearing can be held. By now, we should all be aware that this isn't so much about Zeke, but rather its the NFL (Goodell) holding onto the CBA giving him carte blanche ability to drop the hammer with or without due process, facts, interviews, etc. The NFL doesn't want to lose what they fought for in the last CBA (Collective Bargaining Agreement). If you want to read my takes during the summer there are several blogs written that can be found under "Player News". He's being made an example of and regardless of how flimsy the case or non case, it was to show the politically correct that he wouldn't get a Ray Rice type suspension. Let's leave it there and get to the game.
This game now has a totally new perspective in this battle, but there's not that much of a difference in what to do to get the victory. Yes, I'll have my top issues to win this game, but it is the easiest way to win and its in sync with how the Dallas Cowboys are built. It's all about the running game. With Zeke in the lineup I'm seeing a fairly high scoring game here.
First and foremost this week and every week, STOP THE RUN! That puts you in great position in any game to get the win. We've not proven to be as good against the run as last year, but lets "control their running game". Get a few for a loss, which hurts their down and distance on the ensuing plays and get the D off the field without heavy damage. Must keep Hunt to less than 150 all purpose yards and Hill to 75 or less.
Impose our will on the ground and give them a healthy dose of #21, Zeke Elliott. Zeke needs to pick up at least 120 yards to find the Boys on the winning end of this game. I'd really like seeing Keith Smith in there to dig out 2nd level players and pave the way for Zeke.
Dallas must not turn the ball over! Kansas City is terrific at protecting the ball and are plus 10 this year.
Dallas needs to continue their success of late in the red zone by punching in TD's and not settling for FG's.
Can Dallas hold KC to a few FG's instead of TD's?
KC is averaging over 29.5 ppg and Dallas comes in with 28.2 ppg. Don't be surprised that it takes 35 or more points to win this game.
Be aware that KC is #1 defensively in the NFL in the red zone on 3rd down, with a near 90% success rate. League average is around 36-38%. For some reason they're doing a great job limiting teams.
Dallas's running game needs to control the ball, with a balanced running and passing game, keeping KC's offense off the field.
KC will be trying to do the exact same thing. Winner of time of possession & the one with greater success in the red zone will win this game.
Both teams are going to scheme their defenses to keep the QB's in the pocket. If Smith has to hold the ball he's a prime candidate for sacks. Dak is bigger, stronger and faster than Smith. The QB who's the most effective in and around the pocket improves his teams ability to win.
Dallas has to limit the big chunk plays that have been the norm for KC this year.
Whichever team hits these marks the best gets the W. But sometimes its that mojo or added motivation spurs a team onto victory.
I started the week figuring that KC has played better than Dallas, week by week and s/b the favorite to win this game. I felt that it would take a few possessions for the offense to find its rhythm but now, that a non issue. Yes, we have to be concerned with Hill, Hunk, Smith & Kelce but there's only one Zeke. Based on a reported boost of excitement in the locker room when Zeke walked in, just might be that little something extra that pushes them to their best game of the season. Cowboys 41-34 ……
"It seemed like a little burst of adrenaline in this team when I came in the locker room [today]."

?: https://t.co/Cvu9ulUafL pic.twitter.com/0IzKsriEML

— Dallas Cowboys (@dallascowboys) November 3, 2017