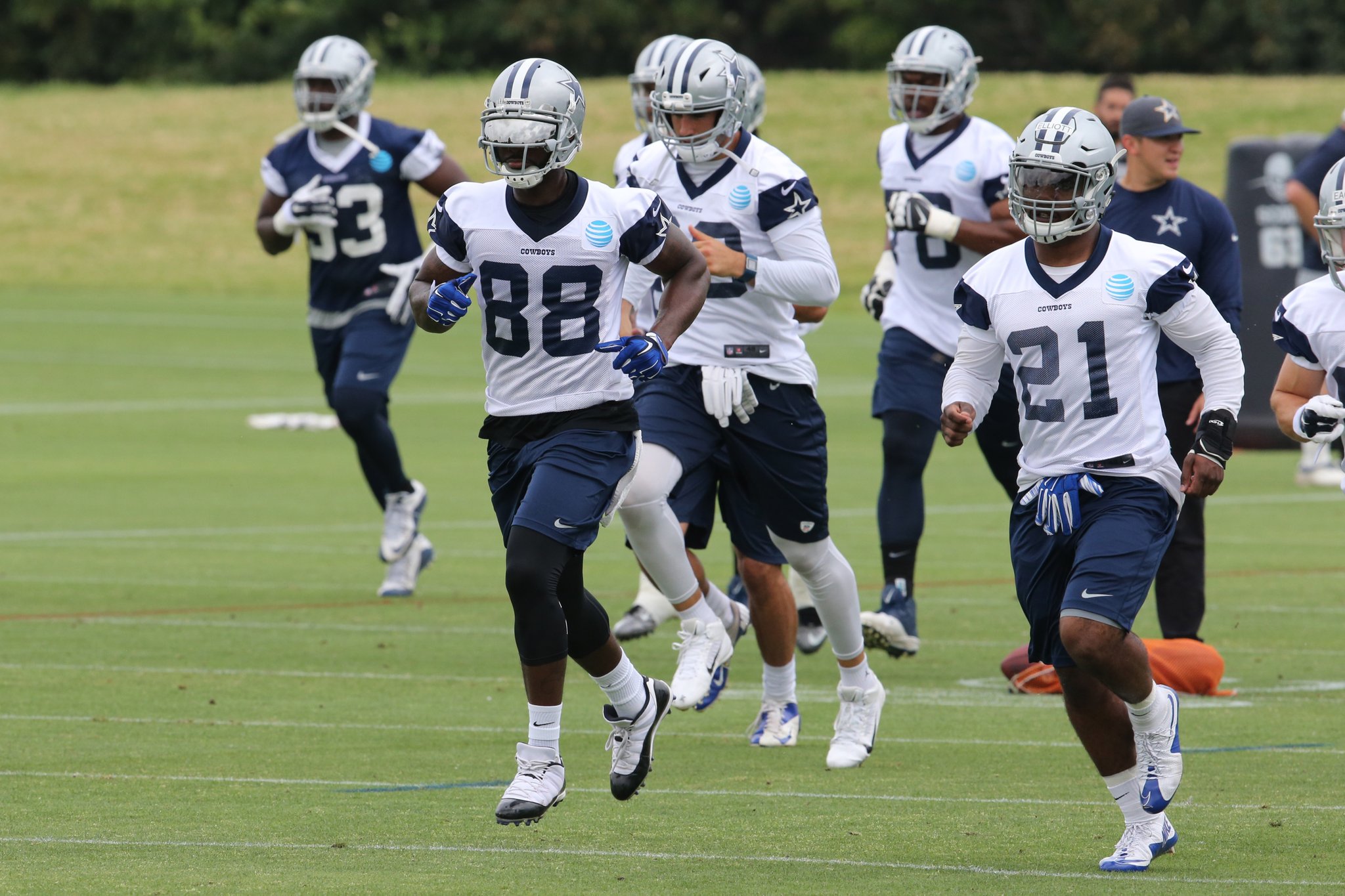 The wait is almost over! Should we be surprised that the Cowboys kick off Sunday night football in week one? America's Team is a ratings bonanza for the NFL. When in doubt, put the Boys on! The NFL opening game featuring Brady & the Chiefs, a SB winner and a 13-3 team from last season, reportedly didn't fare well in the ratings. However, Harvey & Irma may have a lot to do with that. Try and remember a prayer for all those affected by these hurricanes.
For what seems like the 10th year in a row, we get the Giants in game one.  The magnitude of this game is enormous in setting the narrative for the season. Last year is behind us but the Boys lost three games in the regular season and two of them were at the hands of the NYG's. This is a huge game in determining the outcome of the division & season. Ever since the label of being America's Team was given to the Cowboys, other teams use it to play above their normal levels. That's why we get other teams best efforts, often with teams that aren't very good. This year will be no exception. The Giants get the easier teams being the 2nd place finisher in the division. We get the likes of GB, Seattle & Atlanta, while the Giants get the Cardinals, Detroit & Tampa Bay.
The Giants have a formidable defense, there's no denying that and it makes them serious contenders. Oddly enough they had fewer sacks than we did last year, but in evaluating them they apply more pressure consistently with their defensive line. You have to respect and account for the likes of JPP, Olivier Vernon and in the middle, "Snacks" is no lightweight. They added a DT from Alabama, Dalvin Tomlinson, who can be a thorn in our side for years. Landon Collins is probably the best safety in the game today, real good in coverage and tough in the box. Their CB's are good or good enough as long as the pressure is applied up front. Janoris Jenkins is very aggressive and will take chances even if it means giving up a few plays. In the off season he was chirping that Dez is nothing special. Watch this match up, one which Dez has circled on his calendar. The first video below is a play that Jenkins has apparently forgotten. Yet we all can enjoy that play once again!
Last year the Giants really shut down our running game in both games, for the most part. In the second game the Cowboys found some success going wide and forcing the CB's to make plays. Inside the tackles we struggled with Collins & line backers, making play after play. They dared Dak to beat them and he wasn't able to make enough plays. In the first game, we had our chances but we settled for FG's instead of six points. That has to change this Sunday or it may well be another loss.
Offensively, the Giants have added weapons at WR's in bringing in Brandon Marshall to pair with ODB. They drafted Evan Engram who's listed as a TE but really is more of just a big WR. Sprinkle in Sterling Sheppard and its a tough bunch to handle. Marshall concerns me in that his size alone can give us fits. You have to respect him and what he's been able to do with less than top notch QB's. Eli is on par with probably Cutler, who's the best Marshall's played with in his career. Fortunately, they still have Eli Manning! He will have his above average moments, but if you get the below average Eli, he will struggle in picking out the right jersey to throw to. He's never been the most accurate passer, but he's experienced enough to turn in a strong game from time to time. He's saved some of his best moments for us and we've never had defensive fronts or DB's to make him pay for his shortcomings. Their running game isn't special and we can't let them get that going! There are two things Eli is good at, one is getting rid of the ball quickly and the other is moving around in the pocket. We've got to get after him, knock him around a few times and make him move off his spot.
This is a game that will set the tone for the season. We need to win this game more than they do. We can't have them walk in our building and grab a road win from us! The Boys need to be more physical than them, punish them early and punch the ball in. The Cowboys need to force them to keep up and abandon their running game.
Dak needs to get a win against the Giants for his own self confidence! I noticed in camp, that Dak was working on looking off the safeties before coming back to the WR with the best match up. That to me, that effort was particularly for Landon Collins. The Boys need a quick start to assert themselves in this contest. We get the Giants best efforts of the season and all too often, even Eli turns in one of his better games of the year. Time to set the record straight.
The key to the Cowboys offense starts up front on the O Line. Led by the three Pro Bowl players, in Frederick, Smith & Martin. It's their play as a unit with LC & likely Chaz Green that will determine how this game rolls. The video clip below was a great piece of work by Bryan Broaddus breaking down a play with Tyrun blocking on Vernon. What's even better you get to see everyone with hats on hats. The Boys need to get Zeke going to make an impact, he needs to pull their secondary into the box and keep them from doubling Dez as they did last year. Don't be surprised if we see Zeke get four to five receptions in this contest. Watching Zeke in camp, no one could cover him. His moves in space are special and a great way to change the dynamics of the game.
We need a huge effort from Collins on JPP. I'm confident that LC will be a fine tackle, given his strength, quickness and length but this is a tough opening match up. It won't get easier for him next week against Von Miller. It may not seem like a big deal to many, but getting Hanna back this year will help in the running game. Don't be surprised if Maliek Collins & Demarcus Lawrence have a great game. Both are primed and ready to break out. The new captain on defense, #32, he'll make a few plays too as will an old captain, Sean Lee. Typically, I require a QB to make at least five key plays in order in order to win. If we struggle to get going on the ground, it will require Dak to get as many as eight key plays to pull this one out. The defense has to do their part and come up with at least five key plays as well. Cashing in drives for TD's are mandatory in this match up. FG's only get you one step closer to losing in more wide open games.
Defensively, we need to keep them to FG's and not TD's. The Giants weakness is up front on their OL and it's critical that we make them pay for that. Make Eli throw a little sooner than he'd like and maybe picking him off a few times. Jaylon Smith gets his first start and I'm expecting a few plays that kick up the adrenaline level for him and his teammates.  Winning the turnover battle may be the deciding factor in this game. A single punt return by Switzer can be the play that flips field position and facilitates a key score. We should expect a tight game, as all these games against them usually are. Holding them at bay on 4th down late in the 4th or a Bailey, 52 yard FG as time runs out, gets the win.
Final Score: Dallas 27 vs Giants 23 ……