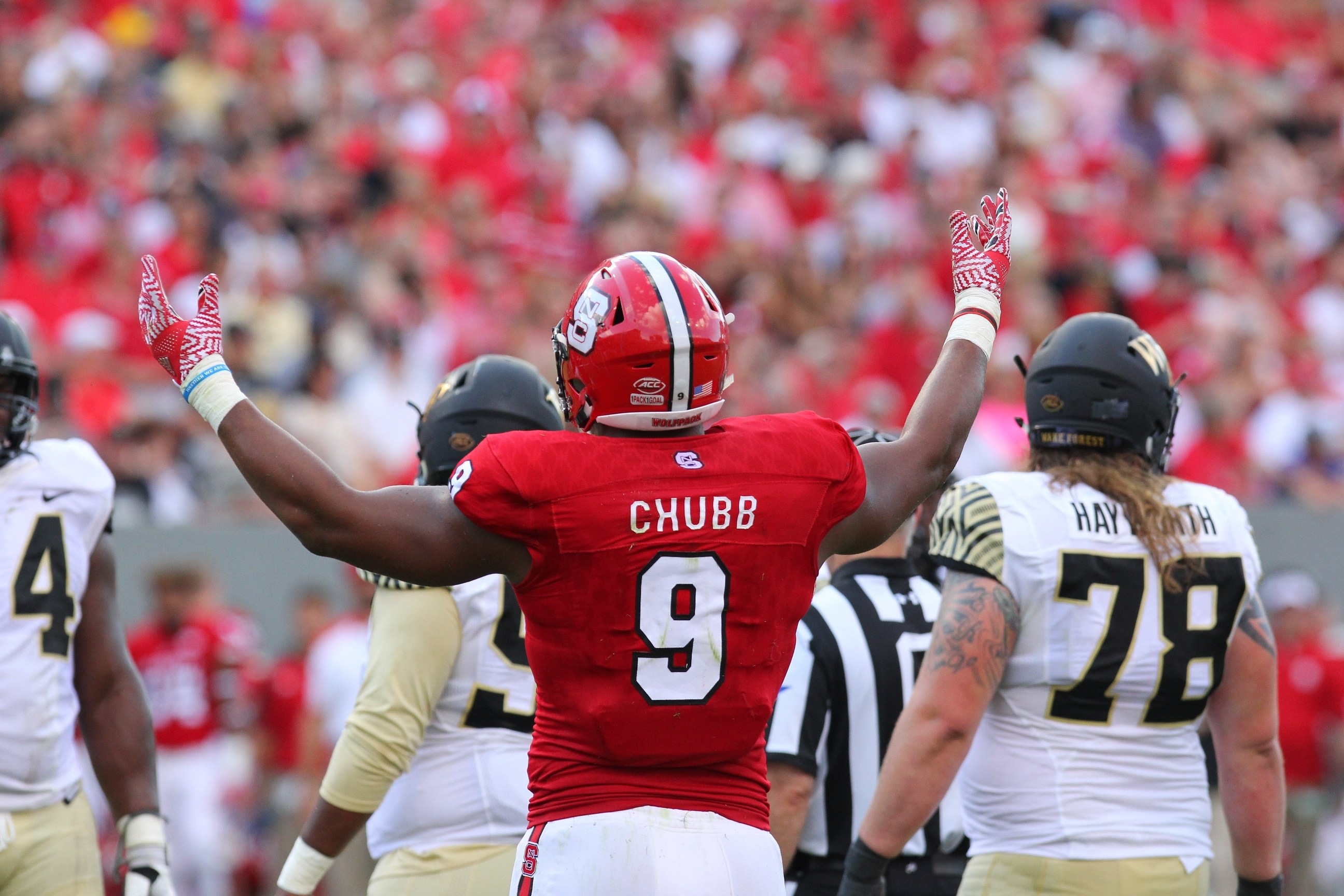 Edge Defender
N.C. State
Listed Height- 6'3″
Listed Weight- 275 pounds
Overview
Chubb will be a senior this year at North Carolina State (aka NC State). He wasn't very highly touted out of high school, only listed at 225 pounds coming out, didn't see much action his freshmen year. As a sophomore he started every game at DE, gathering 5.5 sacks and 12 TFLs, showed some nice flashes of potential in their bowl game against now 2016 Rookie of the Year, Dak Prescott of Mississippi State. Going into his junior year he was named team captain and given school legend's Mario Williams' "number 9" as his jersey number. He didn't disappoint as he ended the season with 22 TFLs and 10.5 sacks. Some may know him as Georgia RB Nick Chubb's cousin but Bradley's play had made a name for himself.
Strengths
Hard to imagine he came into college at a listed 225 pounds, the man is huge now, I've seen him listed at 6'3″ 275 pounds. Has a strong powerful lower body and extremely strong arms. In space though, he moves like a much smaller man, has very nimble foot movement. NC often used him to cover the flat/QB spy underneath. Has a very nice feel and ability in this role, as a sophomore he picked off Florida State's QB in his outside zone. This last year as a junior he played a good amount of QB spy on Clemson (now Houston Texas 1st round pick) Deshaun Watson, had a nice open field play on him where he was able to trip him up, this saved a huge run opportunity. Bradley has very good block recognition, reads quickly and understand his assignment. You can see an intelligent and trustworthy player out there. In that Mississippi St bowl game his sophomore year, he quickly read a screen and redirected to shut it down. Really like how he fires off the ball when he reads blockers pulling in front of him, really disruptive on inside plays doing this. As I said before the guy is extremely strong, I've seen him just control linemen with one arm at times, never gets pushed off the line. Talk about a guy who could develop a nasty swim move, it's this guy. Very strong holding the point of attack in the run game. He does this without even playing with good leverage, which both frustrates me and intrigues me.
Weaknesses/Concerns/Room for Improvement
Bradley definitely needs to get his pad level lower, he flies straight up at times in his stance. As an edge rusher, he lacks explosion off the ball and will never be a guy who will win with speed off the edge. Really think he's getting hurt by his defensive alignment there, he often gets caught going through the middle of the O linemen. That being said, he shows really good flexibility/bend for his size. I said earlier that he controls linemen with one arm, I'd be interested to see him develop that pass rush move to bully linemen around the edge. I saw him do this against a Clemson RT last season, it's a move that is under appreciated by football fans. He has already shown really nice flashes of strong swim move, makes sense considering his agility and strength. My main concerns on him have to do with his lack of speed off the ball, hard to be 100% certain we'll ever consistently see him win on his rushes without a strong presence on the opposite side of him. You have to see more consistency from him as well, many times he'll never give himself a chance on a rush. Would love to see NC play him wider this year as a rusher, he's not going to be able to get the edge if he's lined up so close to the tackle. As I've said, he needs to play with better leverage, can't imagine how disruptive he could be if he did. I have some issues with his tackling. He misses far too many of them, often times he goes for the hip/leg roll tackle but he aims too low and slips off their ankle area. He'd be far more effective just exploding through guys at times. I really want to see him in more opportunities as an inside rusher. He clearly has the strength to hold up inside, especially if he gets his leverage right. I believe his quickness could give guys problems inside, more so than outside.
The Rundown
Overall, Bradley Chubb is a very strong, intelligent edge setter. If you draft Chubb, you at the very least know you have drafted someone you can depend on. I'm really interested to see if he can be more explosive with his hand-work and improve as an overall rusher. I would be surprised if he wasn't picked in the top 40 next year. Has a good chance to be picked top 20 if he can improve his consistency and leverage. Look for NC State's defensive front to give teams problems in ACC.
Scheme Fit
Chubb may have the size of a 4-3 DE but I don't believe he would be extremely effective as a traditional one. However, if he were to go to a team like the Eagles who typically play their DEs wider outside of the tackle he could be pretty effective in that role. Otherwise, I like him as a ROLB to help set the edge and be a force in the run game. Can give you some good coverage too underneath. I want to see if he can rush inside effectively this season. As a Cowboys fan, he'd be more like a LE to help be effective in the run game. This is more or less just a guy you don't want your rivals to take.
Draft Position
Potential Top 20
Top 50 lock
Highlights/2016 Game vs Notre Dame
Other Comments
If there's someone else you want me to do a report on, let me know and I'll definitely check him out. You can either leave a comment on this report or you can tweet me @dexterharris28 on twitter.