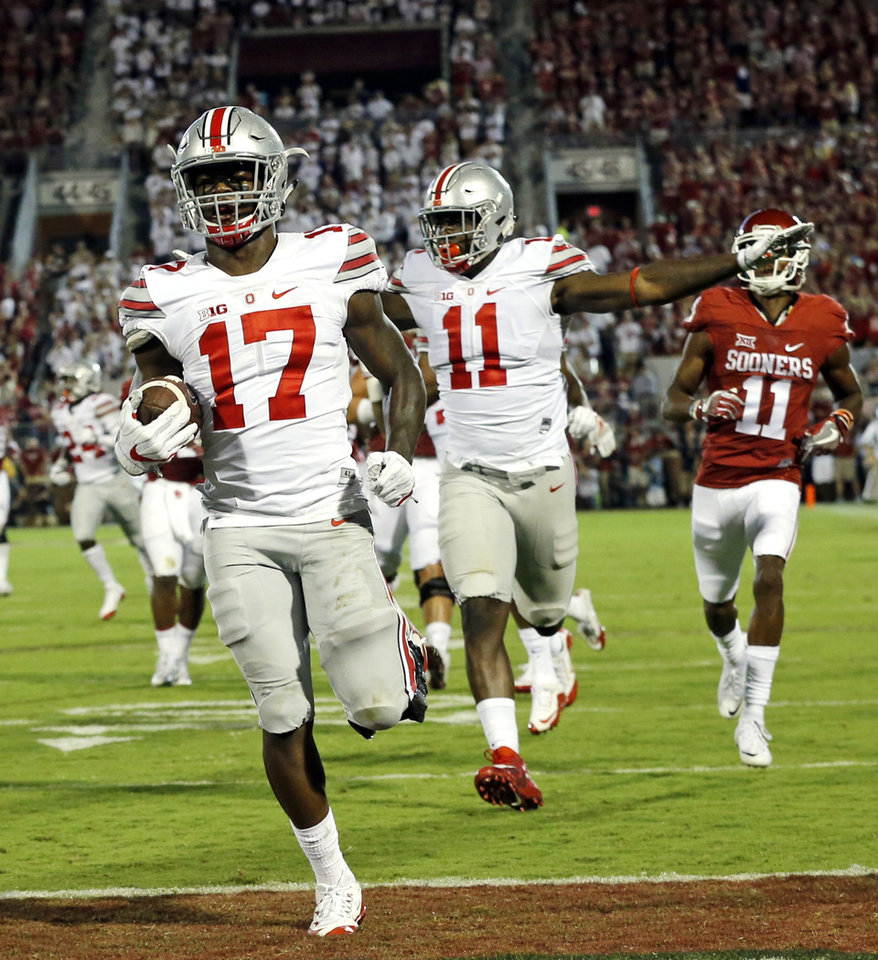 Linebacker/Outside Linebacker
Ohio State University
Listed Height- 6'1″
Listed Weight- 225 pounds
Overview
Jerome will be a junior this year at Ohio State. Out of high school, he was fairly highly recruited and considered one of the top LBs in the nation. With his athletic ability he also played some running back in high school, with over 3000 career rushing yards. Because of the immense talent at Ohio State, Baker didn't see the field much as a freshmen. He proved why he was highly recruited last year though. Baker started 12 of their 13 games, tallying 83 tackles (45 solo), 9.5 TFL, 3.5 sacks, 2 ints and 1 FR. He looks to continue his success this year as he is a part of one of the best front 7s in college football.
Strengths
Jerome stands 6'1″, 225 pounds. He is an excellent athlete, that pops out instantly when you watch him. He's in that new age LB mold, where they are smaller in size but very versatile in their abilities. He has really good quickness and even better closing speed to finish a play. You see good hip flexibility and balance when he's asked to line up outside the hashes and cover a WR/TE underneath. He does very well at reading his keys and reading blockers in front of him. Has a good path to the football that allows him to stay semi clean from blockers. Does very well of working over the top of blockers when he's getting to the ball on plays away from him. He gets in on many tackles when he's chasing the play from his opposite side. Despite his size, he does a nice job of taking on blockers most of the time. He comes with good force and leverage to chuck blockers aside and get in on tackles. Has experience at all of the LB spots and has looked very well in each of them. Does really well coming as a free blitzer, had 3.5 sacks last season. Had a lot of experience playing different coverage looks and also QB spy. He's shown that he can make big plays in the passing game. Had a big 68 yard pick 6, playing QB spy, against Oklahoma, where he turned on the jets to outrun the offense. He also added a int in a huge game against arch rival Michigan, where he baited the QB over the middle. You see some of his old RB skills come alive when he gets the ball in his hands. Could be a prototype LB in today's NFL. I love how he played against some of the top competition last year including Oklahoma, Wisconsin and Michigan.
Weaknesses/Concerns/Room for Improvements
The main thing that sticks out to me in his actual play, is how high he consistently tackles. He must fix his aiming point by the time he gets to NFL or else he's just going to get run over. Even though I said he does well for his size at taking on blocks, he can still be overwhelmed by good technique and power from blockers coming onto the second level. I've seen him get driven out of the play plenty of times. Even though I thought he played excellent against Wisconsin you saw him struggle most with this against them. Guys were able to get their hands inside on him and wall him out. His lack of height also hurts him. At times he can't see over the linemen into the backfield and loses track of the ball. You really saw this against Penn State with Saquon Barkley and their read option game. He was able to sneak behind blockers and change holes quickly, while Baker was left lost as to where the ball was. In the read option side of things, he has to show more patience when he is the player responsible for containment on the QB. Far too often he over pursued inside and left an option lane outside for the QB. Would like to see him get more comfortable/consistent in pass coverage. He has excellent potential there but needs to become more aware and you'll probably see even more plays being made. He lacks size and pop as a tackler and not sure how much more size he can add. He must do a better job of helping himself and become a better tackler. Still would like to see him comfortably add some more mass. You worry or at least question how well he would do without a really good defensive line.
The Rundown
Overall, I really enjoyed watching Jerome Baker. The skills and athletic ability is undeniable. He won't be for everybody as a linebacker but he could easily find his way in the bottom of the first round. For sure at least a early-mid second round pick. Many 4-3 teams would be very intrigued by his skill set as a "will linebacker". If people don't already know his name, they soon will.
Scheme Fit
Teams in 4-3 schemes are in a mad pursuit to collect guys who can run and hit, especially at LB. A team should fall in love with his skill set as a "Will linebacker". As a Cowboys fan, I love Jaylon Smith as a person and I love Sean Lee as a player. However, right now Jaylon is unproven on the field and Sean Lee is getting older. The rest of the LB group isn't solid. Cowboys depending on how things go this year could be in the market for a LB. Baker makes a lot of sense at the Will for this team and you keep the Big Ten theme going.
Draft Position
1st Round Potential 
Top 50 ? 
 Highlights/2016 Games vs Oklahoma and Michigan
!EXPLICIT language warning on the highlight video!
Other Comments
If there's someone else you want me to do a report on, let me know and I'll definitely check him out. You can either leave a comment on this report or you can tweet me @dexterharris28 on twitter.