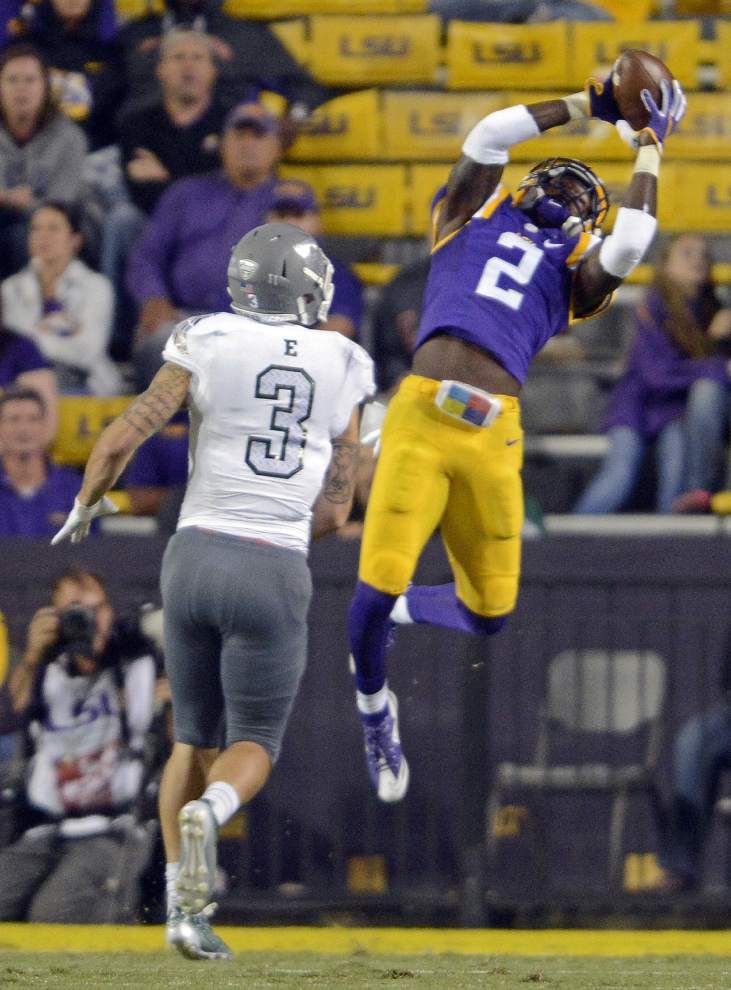 Cornerback
Louisiana State University
Listed Height- 6'2″
Listed Weight- 194 pounds
Overview
Kevin will be a junior this year at LSU. Coming out of high school Toliver was among the top recruits and considered a consensus top ten prospect around the nation. Coming into his freshmen year at LSU, he was expected to be an instant contributor. He did not disappoint as he started the first game of 2015 against Mississippi State, recording 7 tackles and 1 PBU. He finished his freshmen year in 2015 playing in all 12 games (8 starts), tallying 35 tackles, 5 PBUs and 1 int. Sophomore year brought some disappointment from even before the season started. Last spring he had surgery to repair a torn labrum. He ultimately started  the season anyway but then week 3 against Mississippi State, he left the game with a knee injury and missed the following week against Auburn. He was suspended for the first half of their Southern Mississippi game. He then injured the same shoulder early in the Alabama game which caused him to miss the remainder of that game plus the final four games. He appeared in 7 games and recorded 20 tackles, 1 PBU and 0 ints. He is reported to be healthy and will look to bounce back in 2017.
Strengths
Toliver is a big CB, listed at 6'2″ 194 pounds, decent arm length to go with it. At LSU, they play a lot of press man. Toliver has no problems getting in a WRs face to disrupt his route. Does a good job of using the boundary to his advantage as he forces WRs into the sideline. Despite his height, he has quick feet and loose hips that allow him to mirror WRs. You see a good patience with him, especially on vertical routes, not fooled often by double moves. Has shown the ability to make WRs uncomfortable on underneath routes as he's right in their hip pocket, not allowing separation. Has really nice speed for his size and has shown good recovery speed when beaten deep over the middle. Very tight in coverage, among the best of the 2018 group prior to the ball being thrown. He has the most experience in press man but also hasn't looked too bad in off cover 2 and cover 3. Has work on both sides of the field, minimal work in the slot and has covered some tight ends in his career. You like his raw ability to cover, you can see why he was a top recruit in his movements and athletic ability. He doesn't allow much of any separation.
Weaknesses/Concerns/Room for Improvement
One thing I mentioned in the strengths was that he's one of the best "prior" to the ball being thrown. That's an important point because he really struggles turning and locating the football down the field. His ball skills are his worst enemy right now. He needs to do a better job of swatting the ball away underneath as well. He had an excellent high point int against Eastern Michigan his freshmen year so I know he can do it. He's often in perfect position to make a play on the ball but just doesn't seem to understand when to turn and locate. This allows WRs to make catches over the top of him and it's frustrating because it's not like he gets beat often. His height can potentially be a hindrance at times, as you see him play a little high in his back pedal and mirroring. Doesn't allow him to redirect like he should be able to. Something you can expect from tall corners but it's something he can improve upon. Also makes him lose balance at times. Obviously because of his size, he is more suited for bigger WRs instead of the shifter WRs. He can have a little bit of trouble with in/out moves if he's unable to get a good press on his opponent. As a tackler, he can be pretty inconsistent. Too often he comes soft and has been ran over a few times. Needs to show more effort as a wrap up tackler. A lot of his issues are fixable but if he doesn't fix them he can be a liability for a defense. An offense will just keep attacking down field if they know you won't turn for the ball. His injuries aren't a huge concern right now as he seems to be healthy but if they pile up again this season it could be a problem
The Rundown
Overall, Kevin Toliver II is a very talented corner. He has all the ability to be a first round type of guy but without locating the ball he's looking more like a day 2 player. Teams love tall corners but the injuries also scare you. There's things you love with Toliver but the things you hate about him are holding him back from being a top notch prospect. Regardless, I see him being picked somewhere in the top 75 next year. As long as he comes back this season and stays healthy.
Scheme Fit
Although Toliver has looked really good in press man at LSU maybe this is hurting him a bit when he must turn and play the ball. A scheme like Dallas that features a lot of cover 3 would maybe benefit Toliver, that way he can always have an eye on the ball. He already has the speed and movement skills to play. If you want to play some zone press, I don't see why Toliver couldn't do that either.
Draft Position
Potential Top 40 
Day 2 ? 
Mississippi State 2016 and 2015 Games (Catch the MS QB in 2015 game)
Other Comments
If there's someone else you want me to do a report on, let me know and I'll definitely check him out. You can either leave a comment on this report or you can tweet me @dexterharris28 on twitter.