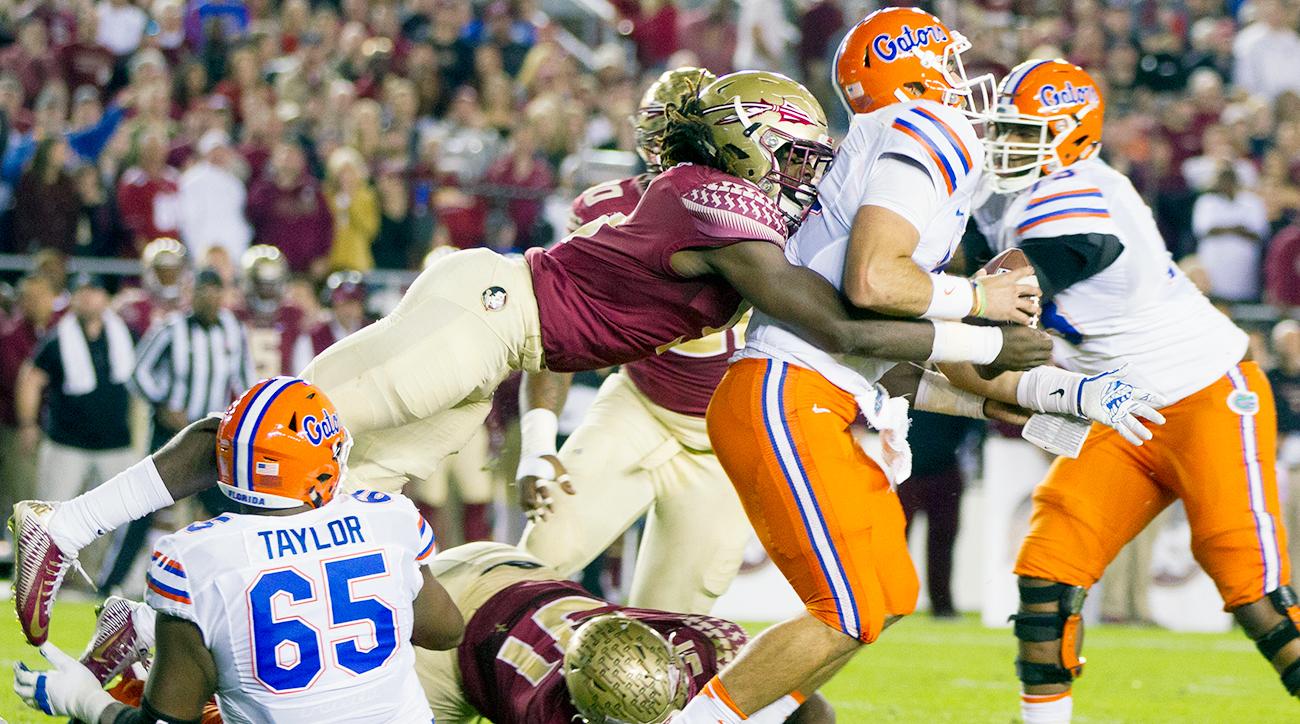 Edge Defender
Florida State University
Listed Height- 6'4″
Listed Weight- 250 pounds
Overview
Sweat will be a junior this year at Florida State University. Coming out of high school, he was extremely highly touted all over the country, being considered as a consensus "5 star" recruit. At one point many considered him the top player in the country. However, early on in his senior season, he had a catastrophic left knee injury. Some feared it could have been career ending. Sweat has been quoted as saying he thought he was going to lose his leg. The doctors diagnosed him with a torn ACL, MCL and dislocated knee-cap. So to start, Sweat has proven that he can overcome adversity. Coming off his injury as a freshmen, Sweat was able to prove why he was so highly touted. He played in all 13 games (started 9), recording 41 tackles, 5 TFL, 2 sacks, 3 FR and even added an interception against Georgia Tech. We're talking about a special talent to do that only one year after having the injury. He carried an impressive freshmen campaign into his sophomore year making 10 starts, tallying 41 tackles, 11.5 TFLs, 7 sacks and a forced fumble.
Strengths
Sweat is truly a special athlete for his size at 6'5″ 250 pounds, with extremely long arms. You see elite flexibility for his height, uses it well to round the hip of tackles (or tight ends) who attempt to block him on the edge. Has impressive nimble feet to make quick adjustments on the move, whether it be in his pass rush or as a run defender. You really see this flash when they use him on twists stunts, does an excellent job of maneuvering through the interior O-linemen. He doesn't have a ton of strength at defensive end and you don't see much growth potential there, he's a slimmer guy. However, he's able to hold the point of attack very well, using fantastic leverage and arm extension to control O-Linemen. Does well at forcing running plays back inside with his positioning. You see a great awareness on his rushes, he understands when he has the opportunity to get the edge and when he doesn't. If he doesn't, he shows the ability to get good penetration on a bull rush, more collapsing the pocket for others than getting sacks for himself. Shows a nice outside rip move that allow him to capture the corner, but I don't see him having the strength to win with that move alone. They rushed him inside a fair amount, he was able to hold up pretty well against the interior linemen, used good extension and a rip move to try and beat them. Has some experience covering the flats, wouldn't say he was great there but he didn't look lost. Saw him cover a tight end down the field once against Michigan. Love that he was able to remain a top notch player even after his catastrophic injury. Has a good understanding of leverage and understands how linemen are trying to block him. Has good counters, was starting to gain more explosion later in the year. If you told me he was 100%, he'd be the # 1 prospect. That play that is the picture for this article really shows the kind of athlete he is. Against Florida he was attempting to get the edge, when he did a UF linemen was on the ground in his path to the QB, he then decides to just make a leap for it. As you can see, he nearly broke the QB in half, also forced a fumble.
Weaknesses/Concerns/Room for Improvement
The only time I've seen him play is with that brace on his left knee, from when he tore his ACL as a senior in High School. I'm not exactly sure if it'll ever be removed. I feel this is really limiting his explosion, change of direction and speed. Will this injury ever fully be in his past or will it be something he has to deal with? It's like he is riding a bike with training wheels on. It did seem like he was becoming more comfortable moving around later in the year against Syracuse, Florida, and Michigan. At times when he had to defend the read option, he struggled to change direction and get down the line and protect the permitter. I want to see him play with more energy. A vast majority of big time edge rushers play with great fire. I need to see him be more explosive with his hands on rushes, get those linemen off of you!! Too many times I saw him watching the tackle rather than being a part of it. As an edge defender against the run, he holds the point of attack well but does he have the strength to shed and make the tackle against NFL, strength? At times he's slow off the ball, he needs to get a better jump off the line, time the snap better. My biggest question is the knee injury, I want get that brace off of him and let's see how explosive he can truly be but I'm not sure if that's possible.
The Rundown
Overall, Josh Sweat is really a physical specimen. Men this big should not have the flexibility and athleticism that he possesses. With an impressive season he could easily find his way into the top 20 of the draft, there just isn't many players who are made like him. Florida State's defense this season is scary on paper. Without the injury I believe this is a guy we're talking about in the same breath as Jadeveon Clowney. One of those special talents at edge rusher who go in the top 3 of the draft. I'm really uncertain about how the injury will effect his draft stock but I still think he's worthy of a late first round/early second round pick regardless.
Scheme Fit
Without the brace, Sweat would be the ideal 3-4 OLB prospect. Similar to what you see from Clowney in Houston. However, with the brace you'd like him in a 4-3. This could be a serious candidate for the Cowboys. We know they love giving guys chances, especially if the talent is obvious. The brace could stop him from being picked early and the boys later in the round could take a flyer on him. Could be an excellent WDE with his flexibility and length. Has the ability to hold the point of attack at DE as well.
Draft Position
Very uncertain right now. I've never seen such a talented pass rusher, have an injury like this. I would say top 40 but I'm uncertain
2015 Highlights/2016 Game vs Clemson
Disclaimer: The first video's lyrics may be offensivee. The tape of the player is very good, but the lyrics are unacceptable. Please turn off your volume!