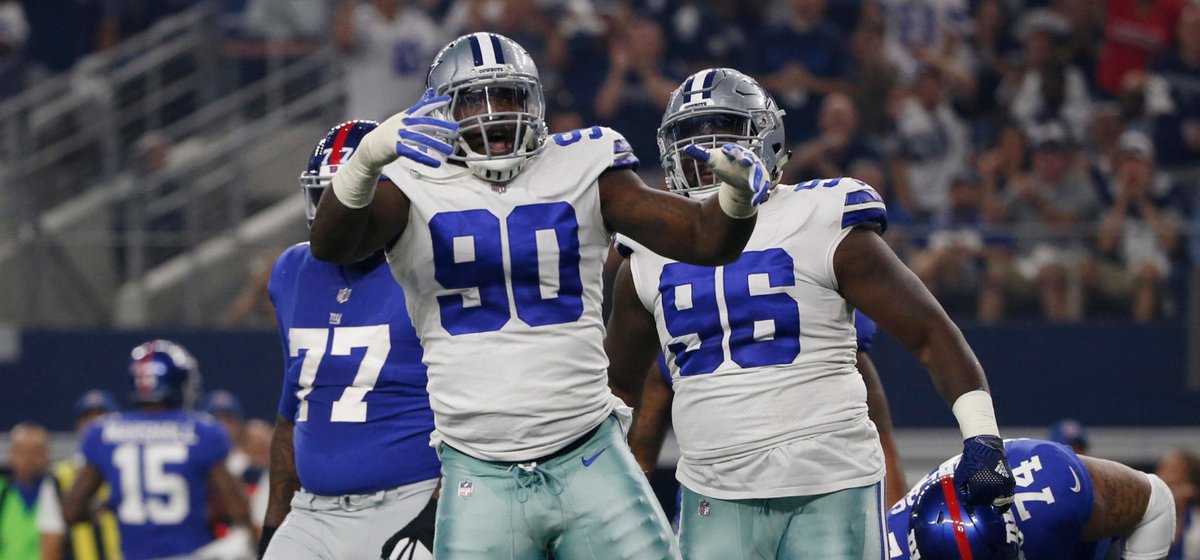 We've were treated to a very special performance by "The Dynamic Duo" who clearly had their signature game against the Cardinals on September 25th! Yes, we're talking about none other than the tandem of Demarcus Lawrence & Maliek Collins! Be sure to scroll down to see the highlights for Tank's amazing performance!
Last Friday, we posted a story, "Breaking Down The Duel in the Desert, Dallas vs Arizona" and the paragraph below I wrote in my assessment of the game.
Here's the paragraph about the defensive line expectations:
Defensively, the Cowboys should do well against their OL. Maliek will get a sack in this game & with Paea, they should be able to push the pocket. Lawrence should have opportunities to keep piling up his sack count against another very average, at best, tackle. We need someone from the RDE position to apply pressure and snag a sack or two. Don't care which one, but someone has to generate pressure at that spot, given the added attention likely to be directed toward DLaw. Damontre Moore,  returns from suspension and we're  curious which side he'll be on? If they can apply pressure then Carson Palmer will find our DB's with a few passes.
It wasn't a dream, it wasn't a vision! These two men stepped up in a big way! Maliek Collins had an excellent statistical evening against the Cardinals. Nor many defensive tackles fill the stat sheet with 2 sacks, 5 tackles and his share of QB pressures. Imagine how good that is and yet he wasn't the best DL on the stat sheet? Lawrence, not to be outdone had 3 sacks, 5 tackles (3 for loss), 6 QB hits and 12 pressures, courtesy of PFF! He lost one sack to a penalty in the secondary, it would have been sweet to have that fourth one! If Tank had the hands of a WR he'd have had an interception to add to his incredible performance on Monday night. Can we forgive him for not bringing that one in? Throw in a sack by Tyrone Crawford and the evaluation of the DL potential hit the mark pretty well. Little did I know or expect, that Demarcus would have three sacks on Monday night. I can't remember such a dominant and active game by a DE in a long time. That sack total was great and it was sweet to see a Cowboy defensive lineman actually get hits on a QB, but getting an insane total of 12 pressures is amazing. Let that number sink in a for a minute! Got a question for you, were you upset, chapped or ticked off when you saw the camera showing that Tank was on the sideline in the fourth quarter? Kept saying to myself, ok, get some air, a little water and get the heck back in there!
There was something interesting and funny about how things went last night. If you caught the Lawrence interview by Mickey Spagnola after the Giant game you'd have learned about the in house weekly contest for best defensive lineman of the week. Apparently the head of the WBC gave DLaw a championship belt. Check out the video clip at the bottom in the "Battle for the Belt"! After holding onto the belt after week one, his statement to Spags was that he was intent on defending "his" belt in the Denver game. He did that with his 2 sacks there. In this game, Maliek jumped out with the first sack, Demarcus matched him, then MC got his second. In the last few minutes of the game, "The Closer" had the teams final two sacks, giving him a 3 – 2 edge over his compadre, Maliek Collins. I used the nickname, "The Closer" and with good reason and one we can hope to see show up in the future. Its been something missing from our defense for several years and that's where you have that one guy that can be counted on for that game changing, game ending, sack. Put the hammer down and close it out! That's what Lawrence did this night and don't take it lightly. It can be crucial to the success of the young defense this year to have a play maker on defense to close out the game.
Actually, the joint success with Lawrence having a league leading, 6.5 sacks and Collins at 2.5 sacks, is because of how well they work together. They compliment each other very well and the whole defensive unit is benefitting by their play. Maliek has such a natural feel for the twist stunts and he gives himself up, to free up, Demarcus as he loops, back to the inside.  The emergence and talent of Maliek pushing the front of the pocket keeps the QB's in place for Demarcus to come sweeping around the bend on the outside. When a QB can't step up he becomes a sweet target for a DE.
The switch last night by Marinelli from playing zone to man coverage with two deep safeties in the 2nd half, forced Palmer to hold the ball a tick longer. This enabled the front to have five second half sacks! The production by these two players in particular have in large part given the rookies in the secondary the pressures to assist them in doing their job. What no one is really talking about is how terrific the defense rebounded after the Denver game, where they were run over as a unit. Catch this, in the first half to start the game, Palmer was 11 for 11, but went only 18 for 37 after that quick start.
In the past few weeks, we've written a few stories on Demarcus & Maliek. Both stories can be found at the bottom of this piece, just click and read what my views were about these two very valuable young men. The story on Maliek was entitled, "Cowboys Best Defensive Lineman in 2017″. It might turn out that I gave the title to the wrong man, but with the start that Collins has had, he's competing very well for that title from the DT position! Competition is a good thing.
The story I wrote about Demarcus, was done back on September 11th and it was titled "Laying Down D Law". In that story, I wrote about and showed a photo of Lawrence doing the same drill up in Oxnard. We can see in the photo below as he works the goal post as a prop before Monday nights game.
.@TankLawrence warming up. #DALvsAZ pic.twitter.com/8RpD7FaJwa

— Dallas Cowboys (@dallascowboys) September 25, 2017
Enjoy these highlights!
6.5 sacks through only 3 games.
QBs beware ⚠️⚠️⚠️#DallasCowboys DE @TankLawrence is bringing the heat! ??? pic.twitter.com/6BA1iayYP1

— NFL (@NFL) October 1, 2017
DeMarcus Lawrence with 3 sacks tonight vs. Arizona. Leading the NFL with 6.5 through 3 weeks. Living up to his name ?.#CowboysNation ✭ pic.twitter.com/Lu9xNzlUd6

— Dylan (@DylansFreshTake) September 26, 2017
PAST STORIES!
The Battle for the Belt!
The Cowboys​ defensive line is in a fierce sack competition & DT Maliek Collins is coming for the crown. #StraightTalk (via @MyStraightTalk) pic.twitter.com/wWGD7Kvcs6

— FOX Sports: NFL (@NFLonFOX) September 28, 2017