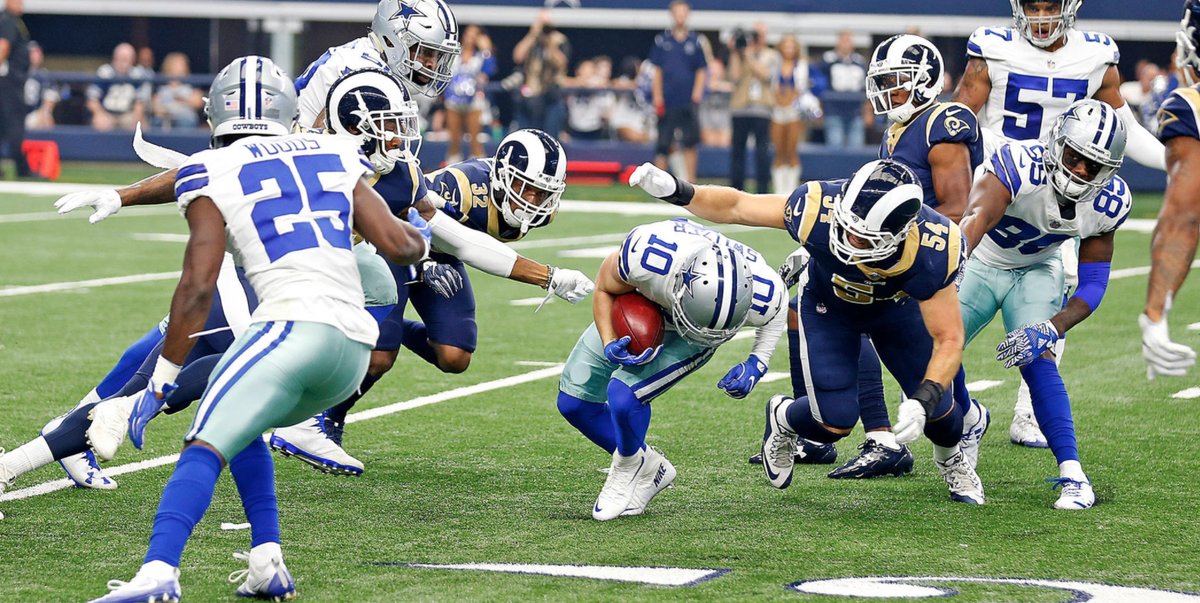 This game was a bitter pill to swallow for any number of reasons. Statistically, on offense we out gained them, dominated the first half, scoring on all four of our possessions. However, two turnovers and poor kick coverage led to our downfall. We had an opportunity at a fumble recovery on the strip sack by Lawrence and how painful was it to watch Tyrone Crawford unable to locate the ball right under his nose? Throw in the missed INT by Anthony Brown as a missed opportunity. He had a shot at pulling that errant pass in, but it did appear to be slightly over his head. We had our chances and didn't cash in. We needed to get through the first month 3-1 and that didn't happen, putting the season on a slippery slope. Up next is our nemesis, the Green Bay Packers, followed by the bye week. Talk about needing a victory!
Below is my break down of the Rams on Friday on what we needed to do to win. If you look point by point, we didn't accomplish a single thing that I felt were keys to winning the game. NOT a single one of these! Gurly & Austin ran free for 169 yards on the ground. Gurley added 94 yards on receptions. In reviewing them as a new look offense, I wrote that Gurley was their leading receiver. We were totally unable to slow him down. We didn't get them behind the chains often & didn't apply pressure on Goff, which was critical.
Defensively
Control Gurley on early downs in both the running game & passing game (he floats into the flat, beware). Without Sean Lee (still an unknown) stopping them on the ground could be a serious challenge. Big game for Jaylon to jump to another level if he's out there flying w/o Lee.
Keep them behind the chains!
Get pressure on Goff, particularly up the middle, feed him toward the DE's. Lawrence & Maliek will be a focus of their O line, but their OL isn't special in pass protection. Keep the streak alive, DLAW with 2 more sacks! Why stop now?
Get Goff out of rhythm with that pressure, a few sacks may give him last years, "Happy Feet".
"Let's get physical" with their WR's, throw the timing off just enough to give that extra tick for Tank & Company! One of the best things to do against a young QB, is throw off his timing. Never let him get his rhythm.
Must rally to the ball, get a few turnovers, flip the field. Watch for Xavier, young man can make plays!
The offensive keys that I pinpointed, at least there was a little better execution, such as getting the passing game going early. That first pass to Dez down field got a nice chunk play of 46 yards and put the Rams on their heels. Video clip is below. We blocked better in the first half and Zeke was rolling and Morris gets a career best on his 70 yard run. We struggled with too many 3rd and longs in the 2nd half. Zeke had five, 1st down runs in the 2nd half and they totaled 6 yards. The last one of those five runs was for five yards. When they stack up Zeke, it puts everything on Dak and the passing game. Dak made plays that were certainly similar to Tony in his hay day, but he was forced to have to do that. We wouldn't be in this game without Dak pulling a few rabbits out of his hat. Can't put all the weight on a QB, or haven't we learned that lesson the fourteen years. Below are excerpts from the Friday story line on the Rams game.
Heres the video of our opening offensive play, Dak to Dez for 46 yards.
Dak.
Dez.

It's a 46-yard gain! #LARvsDAL #DallasCowboys pic.twitter.com/FAx3t0B03S

— NFL (@NFL) October 1, 2017
Here was my conclusion below this past Friday, where the score I envisioned wasn't far off, missing by a mere three points. But the assertion that the team who ran the ball most effectively would get the decision.
Offensively, we'll have our opportunities against the Rams. I'm concerned about our defense, slowing them down, especially early. If we can keep this from being an early track meet, then the advantage goes to the home team. Don't be surprised if this is a 37-31 game. The team with the best running game wins this match up! Predicting is a hard job, had you told me that Dez, Beasley and Witten would have only four (4) receptions last week, I wouldn't have thought a victory was in the Cards!
What Went Wrong? There are always a few plays that you can point to as being crucial to the outcome. There were several in this game and probably none bigger than the Ryan Switzer fumble. There were so many things wrong with his decision at that moment. We were controlling the game at that moment and after one of the few stops on downs where we forced them to punt, Switzer risked making the catch with heavy traffic all around him and deep in our own territory. It was early, they couldn't stop our offense and we were up by 11. This presumed possession could have seen us add to that lead and at least in our minds have put the game out of reach. Instead they get the turnover at our 18 and punch it in for one of their only two TD's on the day. Special teams let us down again in this one, allowing a 60+ yard return, which led to the Rams other TD. In essence we never forced them to drive the length of the field for an actual TD. Defensively we're set up to bend but not break and in this one, we bent till it hurt, yielding 7 FG's.
There was one key issue that few, if any are speaking about and thats the absence of Sean Lee. His not being in the lineup, was incredibly obvious in our inability to control their running game. We never really slowed down Gurley or Austin on their rushing attempts. I'm sorry but that doesn't happen on Lee's watch. Sean always finds a way to make a tackle for a loss or stuff the hole. Durant looked slow out there and had little or no impact in the running game. While we all love Jaylon Smith, his physical limitations were targeted by the Rams & Gurley. I realize that Jaylon made ten tackles and while that's a good effort, too many were down field in a chase position. It's been that way from the start. Jaylon's challenge to redirect to the sideline or pedal backwards are compromised and the Rams took advantage. It doesn't take but a fraction of a second difference between making the tackle or not. Being in position for pass coverage or not. Two bright spots of the telecast were Jourdan & Woods, they keep showing up with positive results.
Offensively, we had good balance in run to pass ratio until late in the game. In the 2nd half our first down plays produced little to nothing and the net results were our possessions went nowhere. The Rams by contrast, just kept rolling onto our side of the field and their kicker punched kick after kick between the uprights. I'll need to see the All 22, to see why for the second time in two weeks, we weren't getting the ball to Witten nor Beasley. We all presume that Witten is a QB's best friend in moving the chains, but he's not being targeted. Are they covering him that closely? Beasley, on the other hand, looked to be impossible to cover, be it, last season or what I saw in camp up in Oxnard. Last year we had the least number of drops by WR's and again yesterday our guys were struggling to make the reception. We're not used to seeing Dez or Terrance making drops as they did here in this game. When we have these tight games, where one score is the difference in the outcome, a pro wide receiver can't drop a ball that hits two hands, just can't drop those.
Dak played his tail off in this one and in the first half he performed a few miracles with his feet in getting out of a sack for a big play or taking off and getting a drive changing run for a first down. I don't know about you but I thought I was watching Tony Romo out there, spinning out of a sack and completing a TD. In the second half, that same " Dak magic wasn't there, but not for a lack of trying. The pressure was coming fast and furious making it difficult to impossible to make plays. When there were other chances to make some plays, the fella's dropped a few on him. Something has to be figured out with the offensive line. Clearly the same chemistry just isn't there this year. Seems they're alternating missing a block which blows up the play. Its not allowing us to have Zeke, succeed with the dirty runs, for 3, 4 or more yards when nothing was really there. This year, those are for no gain. If you were like me, it was hard watching them let go of Ron Leary. Salary cap limitations made it very challenging to sign him to a big deal, but we're all learning how valuable he was. Let's not dismiss the value of Doug Free either. Can't complete this piece without mentioning the 2 point conversion attempt. The penalty call on Travis, was as Moose said, "a terrible call" and a game changer all in one. They executed the play with Dak cashing in and the ref didn't see that Travis, "pancaked" his man! We had so much go wrong and here's a play where the stripes make a bad call and it alters the way the rest of the game is played. Who knows the outcome if its a tie game?
We have to move onto the Green Bay game, another team we face who gets ten days rest. I'd expect some changes coming but not until after the GB game. We'll contemplate those decisions during the bye week.
Here's one of those Dak's Magic plays! Remind you of anyone?
Wow. Dak Prescott shakes off an Aaron Donald sack and finds Dez Bryant for a first down on third and 7. pic.twitter.com/8W6hQhl7yy

— NFL Update (@MySportsUpdate) October 1, 2017