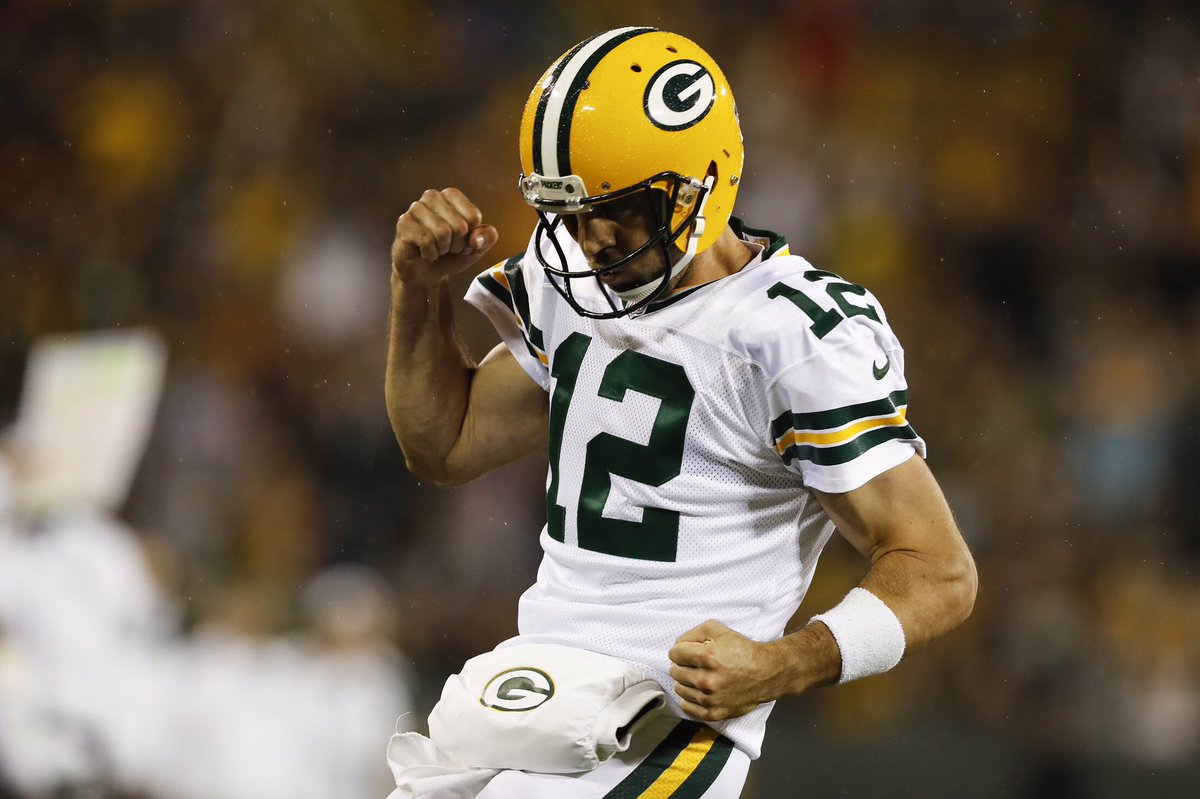 As a preview of our match up this Sunday with the Packers, we're reposting our story from June 10th, We'll stand by our take on this game now nine months in the rear view mirror. It's no less frustrating with that 20/20 hindsight!
On January 15th, the 13-3 Cowboys hosted the 10-6 Packers at the greatest stadium in sports. Many in the media were ready to anoint the Cowboys as the NFC champs and a berth in the Super Bowl. So how in tarnation did we lose?
Our first drive stalled as we settled for a FG. Field goals just get you one step closer to losing. We needed to jump on them and impose our will in that drive. On the third play of GB's first possession, my anger level escalated when we got caught with 12 men on the field. Are any of surprised that Rodgers looks for 12 men on the field and licks his chops for that free play & a penalty? I was livid that we gave them an automatic 1st down when it was 3rd and 5. Bad enough, right, but no, Jason had to still "bang" a time out as he likes to say after the penalty was assessed. Clearly, the coaches were still baffled about some aspect of the substitution. We had two weeks to get ready for every swinging situation and Garrett blew a penalty and a TO, within seconds. GB just cruised to a TD, as though playing 7 on 7. That's how it went for the next two GB possessions. We shot ourselves in the foot on our 2nd possession with a penalty that hadn't been called for roughly 30 years. Dak had completed a nice, in route, to Terrance and instead the drive stalls following the 15 yard unsportsmanlike penalty. Within minutes we have now had three crucial mistakes by the coaches, all dealing with substitutions. This wasn't week one of a preseason game with the 3's and 4's out there!
The whole season the coaching staff was on the top of their game. We get the top seed, home games throughout, a bye week and all of a sudden our coaches spit the bit. Perplexing? Second GB possession they strolled down the field for another TD. Our third possesion was short & bitter, three and out. Next GB possession, took advantage of a hands to the face penalty on 3rd down by Mo. Given Mo's being out 9 weeks with a groin injury, I wasn't thrilled with him being back in the starting line up coming off that injury, when the rotation was doing just fine w/o him. He got caught reaching here and beaten badly later down by the goal line in the 3rd quarter. All season we did well defensively in preventing big plays and this day we were getting torched with chunk plays. End result, another GB TD, which was as easy as the first two. The lack of a rush was exposed on this day. Finally, we got going on our 4th possession. Witten for 5, Zeke for 10, Dez gets 21 & then Dak finds Dez with a sweet pass for 40 on a 9 route, for our first TD. We're battered but not out. Christine Michael makes a bone head play on the kick off and we pin them deep. Rodgers comes within a millisecond of catching us again with 12 men on the field. Garrett "bangs" another senseless time out to avoid another delay of game infraction. At this point, you have to be ticked at the coaches for being so unprepared that they burnt two timeouts & snag a 15 yard penalty, all because they can't deal with player substitutions properly. The Boys were eventually able to get a stop on 3rd down as Mo got away with holding on the play.
We get the ball and the offense continued to move the ball well. The big play was a non call when Witten was clearly held and brought down in the open, inside the 10. After that, well, hate to say it but the clock was running down on the play clock and good ole Jason Garrett "bangs" our last time out of the half. GB gets the ball and tries to stay aggressive but Marinelli started blitzing Rodgers and on 2nd down Scandrick got home and gets the sack. After an incompletion on 3rd down, GB was forced to punt. Unfortunately, we had no time outs remaining and instead of having a shot to get something going in the final minute, the half was over. Really hard to believe how the coaching staff was out maneuvered so badly to this point. I spent the next 15 minutes trying to figure out what we all just witnessed. I thought that Garrett finally was beyond the blunders and butchering of time outs, but in those thirty minutes, that hypothesis was kicked to the curb. We had a shot at some momentum, but time ran out. A much needed opportunity at the end of the half was blown!
The second half started much like the first, with GB marching down the field with relative ease. No pass rush and the chunk plays continued, with Rodgers hitting Cobb for 25, another for 15 to Adams, with the big one to the TE with Mo trailing badly in coverage for 28 yards to the 2. Down 28-13. We start the next drive with Zeke taking the ball up the gut for 22. After an offside penalty, Dak while in the grasp, flips one out while falling forward to Witten for a 1st down. Facing a 3rd & 4, Dak tucks the ball and picks up a big 1st.  What happens in the next sixty seconds is a huge turn in the game. Zeke zips right for 9 yards, leaving a 2nd and 1 at GB's 18. Not sure about you, but I'm emphatically yelling at the TV that we need to pound them again with Zeke. Show them the power, wear them down! What is the play call? The coaches gave Dak a run / pass option. Didn't learn this until a few days after the game. When I see the alignment, I yelled at the TV, "don't throw it"! I could see that Micah Hyde was anticipating the bubble screen (to Beasley) as he started walking up on Dez. Valuable points, maybe even the game winning points, were taken off the board! Who among us wasn't furious that we blew another opportunity by simply not pounding the ball down GB's throat? It chapped me big time, to eventually learn that the coaches had given Dak the option, on the play call. The rub is that this is the 2nd half of a playoff game & we're down 15. You don't give a rookie, that option, with the season on the line. Just relay it in and let him execute. I couldn't believe the play call. Dak made one of his worst throws all season, as he was way off line in getting the ball to Beasley. Dez knew on the snap Hyde was blowing up the play, let alone a pick. If I wasn't upset with the coaching enough to this point, this play call was devastating.
Heath picked Rodgers to get the ball back and a very determined & poised Dak led a TD drive to cut the lead to one possession. Then we were able to get a stop on GB, with a sack by Church. The offense smelled blood and Dak marched us down field, with key plays by Zeke, with another 20 yard gallop. Dez, was all world this day and capped the drive with a 7 yard TD that he snatched at the goal line. Dak capped it off, blasting in for the 2 point, game tying conversion. Game tied now, despite the coaching blunders. Rodgers led GB downfield with a PI call on my pet cat from last year, Anthony Brown. It was a good call, can't complain he held the guy. Now they're in FG range. Demarcus Lawrence blows up a running play for a nice loss forcing them to risk a 56 yard FG attempt by Crosby. He squeezed it through the uprights. But their drive cost us two time outs. No complaint there! But again goes back to that crucial 2nd & 1 call, that left the Cowboys on the short side of the score.
We get the ball with 1:33 left in the game, on our own 25, with one time out left. What are we looking to accomplish? Realistically, getting a FG at the least and with a chunk play or two, getting a few shots for the game winning TD. Dak hits Terrance for 25 to midfield at the 1:27 mark. For whatever reason we don't snap the next play until 1:07 left on the clock, yet Dak finds ole reliable #82 for 10 and another first down, but the clock ticks down to 0:52. Here's where we officially blew the game! We spike the ball! Really? We have them on their heels in two plays that gobbled up 35 yards. Why take our foot off the pedal? As an old former coach, if I had a team sucking for air & confused, I'd just put the pedal to the metal. Time to pounce! But no, the red headed genius, spikes the pigskin. Now we "only" have two downs to get a crucial first down. A first down would allow us to control the balance of the clock in regulation and take shots into the end zone. The next play is a little out route to Beasley for 7 to the 33, clock is stopped at 0:44. Leaving the need for three big yards on third down. As my brother, a diehard Vikings fan, can attest, I said prior to this possession, that it was crucial that we can't leave "any" time on the clock for Rodgers. The third down play call bothered me in that we went empty set for one. Being that we already had FG range and a TO in our pocket, why not put the ball into the hands of the league's rushing leader? Why have the horses up front if you don't use them, when needed most? We have them trapped in dime coverage, so why not take advantage of our size up front and "feed" our 4th overall draft pick, the ball. Are they afraid he can't get three yards or thirty? He's already busted them for several 20 plus yard runs in this game. Worst case scenario is that they hold Zeke short and GB is now forced to decide whether or not to use one of their two remaining TO's. Force them into a decision. If not, we'd then run the clock inside 5 seconds and let Bailey tie up the game. If we make the 1st down, go ahead and run whatever you want or spike the ball now that you control the last precious seconds or bang that last TO (my last choice). Then we get a few plays to get closer and take the chance of letting Dez put up yet another TD on a secondary, he was tearing up. How hard is this to process, by the guy who says, its all about the process? Instead we don't convert and we've left time on the clock for Rodgers with 2 TO's to get into range. We saved our last time out for what, to freeze Mason Crosby? Failing to use it for your own points is a brain hemorrhaging fiasco.
Dak led them back to tie this game not once but twice after the abysmal start. Dez was at his seasons & maybe career best on this day. The defense came on late in the game, to make critical stops. But the coaching was atrocious in my opinion. I've loved the "continuity" that Garrett has brought to a team that was desperate for continuity. However, he falls into the Andy Reid world of inability to coach his best when his best is needed. The burning of TO's, the play calling on that 2nd & 1 was horrific and the "spike" were our all part of our demise. Dak and the Boys left it all on the field and were let down by the coaches, led by Jason Garrett. We blew a 13 win season! We blew home field advantage throughout the playoffs! Finally we blew, playing an opponent that we dispatched with ease on their revered turf at Lambeau Field!
Its difficult, to impossible, to get over the mistakes throughout this game at the hands of the coaches. Shocking, that after all these years Garrett can still mismanage time outs. The mishandling of substitutions was amazing, knowing who they were facing and how Rodgers counts the defensive players carefully. All of the inadequacies of the head coach in this game were just baffling and cost a very special team, big time!
The Cowboys are being built methodically and strategically toward building a perennial playoff & SB contender since Will McClay & his team are handling the scouting and draft evaluations. The clear focus this off season was to rebuild the defense. My motto is, No D, No Rings! To win another title or two, our teams have to be so good on both sides of the ball, that even this HC can't blow it.