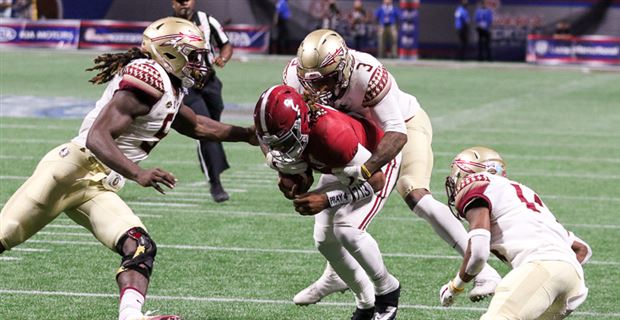 In this series of "Player Check-ups" I'll look at how the players I evaluated during the summer (preseason). I'll also include some other top players from the teams listed in the article. These are players you should expect to get a full evaluation of either during the season or post season or "draft season" leading up to the draft. This time we are checking out USC/Stanford and Alabama/Florida State
USC vs Stanford Game
Porter Gustin (EDGE) USC
Stat Line: 4 tackles
Gustin wasn't a guy who's named was called a lot during the game but he did have production. At the start he struggled to beat the OT for Stanford but as the game progressed, especially in the 4th he started to dominate him with a outside rip move. Was able to draw a hold on a rush and played very well against the run setting the edge. He needs to continue working on his cornering off the OTs. There was many times where he beat the OT but didn't show the hip flexibility to finish the play with a sack. Needs to work on his shoulder dipping on his pass rush. Overall decent game vs a consistently tough OL in Stanford, he was overshadowed by fellow edge rusher, Uchenna Nwosu who showed excellent athleticism and was a terror for Stanford all night.
Other guys to look out for from these teams… Stanford's: RB- Bryce Love, CB- Quenton Meeks, CB- Alijah Holder, S- Justin Reid. Reid and Holder both came down with phenomenal INTs.
USC's: QB- Sam Darnold (played great overall) , RB – Ronald Jones ll (2 TDs), LB – Cameron Smith(played great), DE – Uchenna Nwosu(excellent athlete, played great)
Florida State vs Alabama
Minkah Fitzpatrick (DB) Alabama
Stat Line: 5 Tackles, 1 TFL
Minkah played lights out underneath. Was very explosive attacking the ball in coverage underneath to make quick tackles before the receiver could make a move. Did very well coming off as a free blitzer, forced a lot of quick throws and ruined some plays. Did a nice job in run support as he made a few tackles at the line of scrimmage. We saw him play slot most of the game with some work at free safety. Got beat on a goal line fade to 6'5" NFL prospect Auden Tate but overall had a nice game. Looks like he added a lot of muscle to his lower body, looks more stout than I remember last year.
Tarvarus McFadden (CB) Florida State
Stat Line: 5 Tackles
McFadden looked like the same elite CB prospect we saw from last year. He looked way more aggressive as a tackler this year and tackled with excellent technique early and often. Made a lot of plays underneath as a tackler near the line of scrimmage. They used him as a free blitzer a lot as well, he could continue to improve there. He was tested deep like I hope someone would this year. He let the WR get behind him both times but the ball was overthrown. Deep speed looks to be his biggest question mark going forward. Very nice showing against the best team in the country. He even returned punts, although he never really got an opportunity to show what he can do.
Josh Sweat (EDGE) Florida State
Stat Line: 5 Tackles, 1 TFL, 1 Sack
Sweat struggled early in this game from a pass rush standpoint. He wasn't getting very good jumps off the ball. Later in the game though he was able to dominate the Bama OL with some good swipe moves outside to free himself. Gathered a sack later in the game. Still limited with that brace. For those that didn't read my preseason evaultion on him (read it), Sweat had a catastrophic knee injury his senior year in high school. He will probably have to wear a brace throughout his career. Thought he played very well against the run. He gets excellent extension and is able to control where he wants the linemen to go. Could continue to work on his block shedding and tackling ability as far as putting it all together. Overall decent showing for him, he can do better.
Other players to watch from these teams… Alabama: WR – Calvin Ridley (played well), DT – Da'Ron Payne( played excellent), CB- Anthony Averett, DE – Da'Shawn Hand
Florida State: DB – Derwin James(played LB, CB, S… big time player), WR- Auden Tate, DT- Derrick Nnadi