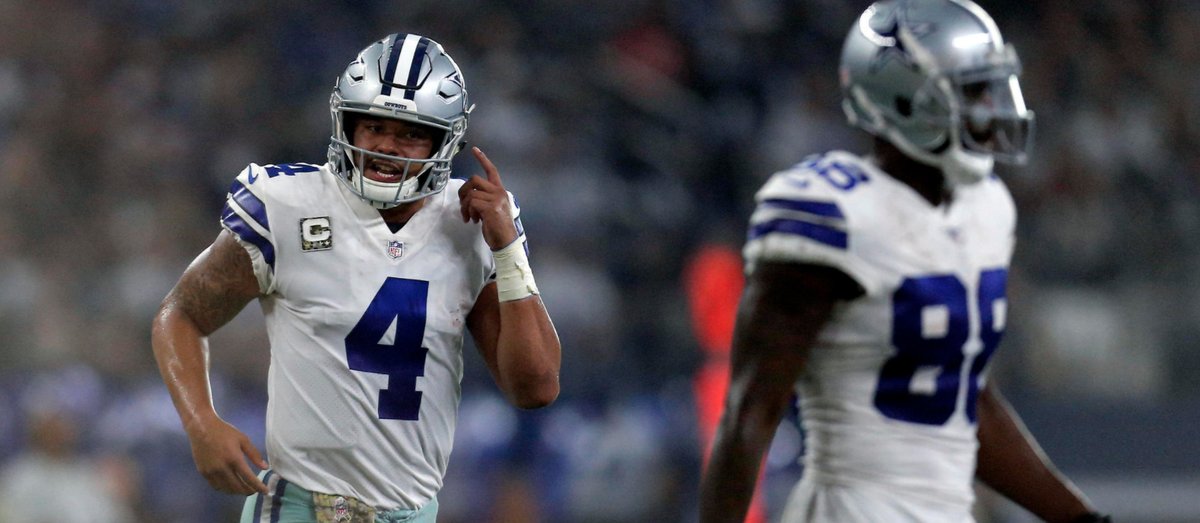 Hard to believe that after last years 13-3 record that here we sit going into week 17 and this game has little to offer. I won't be doing a look into the two teams and assessing our chances for victory this week. Don't even know who's suiting up?
Based on certain injuries, there are players I would choose to sideline for this game. The team announced that they have put Tyrun Smith & Orlando Scandrick on IR. If you're not playing Smith, do you consider sitting La'ell with his back issues? If that's the case why put Dak out there? If you're not playing Dak, then why play Zeke or Dez (tendonitis issue)? See where I'm going? Why risk Sean Lee or even Demarcus Lawrence, while you're at it? If anyone of these players are spending time rehabbing an injury from week 17, it will be a loud chorus of screaming by the media & the faithful!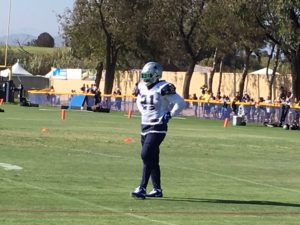 We'll look at what went wrong with the season after the final game and I'd offer up the problems I've seen. Once we were knocked out of contention the pundits and angry fans looked for a scapegoat and lo and behold it was #88. Which leads to the Dez Bryant chatter the last few days. Hey, the fans even booed Roger Staubach & Troy Aikman so this is nothing new.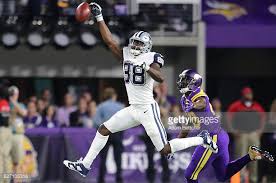 First of all who's better or even close to Dez on this team at the position? If you're the QB, who do you target in the red zone among the WR's? Who commands double coverage roughly 40% of the game? If you give me any other name among the WR's then you're only fooling yourself. Did Dez have a great season? Did he have any 100 yard games? No on both counts! Did Dez uncharacteristicly drop passes this year? Absolutely! Does Dez want to be a big part of the team and win? Absolutely! Is it frustrating for a player with his talent and ability to want the ball in big games, at big moments? Absolutely! Do you remember last January's game against the Packers where Dez was single handedly getting the Boys back in the game from the wide out position. He was unstoppable! Do we see how animated Dez gets on the sideline? Sure we do! Did you ever get the chance to watch "The Playmaker" himself, Michael Irvin on the sideline?
Dez knows he can help the team when the ball comes his way. Did he get careless with the ball that he fumbled in the Seattle game? Sure looked that way but was he trying to do too much? I'm not condemning one of my two most explosive offense play makers for trying too hard! You?  When you don't see the ball for the first hour of the game, you're trying to score on a 2 yard out! Not an excuse, just how it is. You feel you have to take advantage of the any touches you get. Patience isn't an ally of an elite WR very often. Our RB is "handed" the ball 20-25 times per game, its different for a wide out, as they have to make hay with far fewer touches.
Whatever show I listened to or story I read the last few days, there were those saying that Dez had a poor season, wasn't producing up to the value of his contract and should be cut or have his deal lowered. Are you among those looking to cut Dez or his lower his contract? I'll bang the table all day for Dez because of what he does with or without the ball. There are things he could be better with, but I don't see him as the problem or the declining player he's being made out to be, but I can point in other directions as to what I see as part of the problem.
I'm looking at this from an Offensive Coordinators perspective, a job I'd held many years ago. Yes, I served as coordinator on both sides of the ball, giving me a thought provoking view. How I'd beat a defense and how I'd stop and offense. Dez as an elite WR believes they can win their match up, any time, any day, any situation …… Here's what I see as an OC! Dez commands double coverage in obvious passing situations and that means someone else is certainly getting man coverage with the 2nd or 3rd best CB a team has. When Dez is doubled or a linebacker shades his way, that means that the box is a little light. That immediately sets off the neon lights for me, that there should be a little wiggle room for Zeke to operate. You know he just needs a sliver of space to make them pay for their indiscretions! Ok, now we see that we have two elite level players requiring defenses to scheme for them. Who else has to be dealt with schematically? Terrance Williams, or Cole Beasley or Jason Witten? Terrance has never kept a DC up at night. Beasley has been bracketed this year but surprisingly teams have gone solo with him more as the season as gone along. Teams don't worry about him working beyond 7-10 yards at most. Jason, an all time fave of all the Cowboys fans, is slowing down and only commands coverage in a small space. Positioning is his best ally and it negates his loss of speed in tight spaces by using his smarts and frame. For me, the last three don't stretch the vertical working space of the field. That packs the defenses for Zeke & Dez. If you hadn't noticed Zeke is averaging one less yard per attempt this year. Dez has had games where he's averaging under 10 yards per catch, that is unforgivable, an absolute waste, in my opinion for a #1 receiver. That's not on Dez folks! This offense has become so limited by virtue of the skill sets of the other players on the field. Yes, there were games where Dak had to treat every play as though he needed to find the "hot route" because the blind side was shaky at best with Smith out. Terrance has made some nice plays, but struggles to get open and rarely, can he get downfield on a designed route and pull the ball in.
I was hoping that they would have drafted a WR that would have been an upgrade on the outside. I wasn't thrilled about Twill returning but I was able to accept it. I just wanted to improve at the position, hopefully with a play maker with speed. Bease and Witt work the same depth for the most part and that only serves to clog things up at that depth. When Brice Butler was healthy all of a sudden a few down field plays were made this year. Brice averaged over 20 yards per reception on just 13 receptions. It's proof positive that we're missing a vertical threat. I'd like us to draft a player with that ability. I don't see Brice returning in free agency as he may command a better deal elsewhere. While we love all our players, there are limitations with two guys working the same area that lack high end speed. Dez needs complimentary players to help open things up a little, it's not only important, its critical. I was hopeful that they'd use Switzer more as he has the juice to get down field, at least he showed that in college. A much more diverse route tree to his game than Beasley.  To me, the working space isn't open enough to give Dez his best opportunities. Now, you might come back with a comment that this was the same group during the back end of the Romo years and you'd be correct. But all things aren't the same! Dak is not Romo, nor should we expect him to be at this stage of his career. Need to have patience with Dak too folks! In the early part of the season he was a one man band overcoming the inability of the O Line to get the running game going. Some people say that with Zeke in the lineup, that the offense has changed and less opportunities for Dez. False! In 2014 we had Damarco Murray toting the rock, 392 times, for 1845 yards, with 13 TD's and yet Dez still managed 88 receptions for over 1300 yards and yes, 16 TD's. No one is better at the high point of a ball, above the rim, there isn't anyone better than Dez!
Last year there wasn't the media whispers of a lack of chemistry with Dak, but all of a sudden that's the chatter running wild. Last year was a special season, with everything falling into place. We all saw their chemistry at its finest against the Packers in the 2nd half of the playoff game. Probably one of Dez's most dominating games in his career, IMO! Last year Dez missed three games due to injury and had a decent year, albeit the numbers weren't off the charts, as we'd come to expect. I watched them for three days in camp and Dez couldn't be covered and Dak was outstanding in the back shoulder throws. During this season, Dak wasn't on point with that throw, which surprised me to no end after watching them in Oxnard?
Dez has never been labeled the best route runner and has struggled with the route tree from time to time. Dak, when he was coming out, I read Dane Brugler's Draft Guide that spelled out why Dak was labeled a 3rd or 4th round pick prior to the draft. Dak's most glaring weakness was that he wasn't the most accurate QB coming out in the draft. Probably one of the best leaders but not the pure passer of others more highly rated. Last year we saw that trait and at times it was a problem. This year its been a bigger issue for him, on a more regular basis. In his defense, last year he had better protection to throw from a great pocket, where this year, we should be grateful he made it through the season. Yes, Dez has the targets but the accuracy of the throws his way have not been great. How many have just been throw aways over his head or land 5 yards in front of him. The drops by Dez are inexcusable if there's not an issue with his eyesight! Now we all believe to some degree that if a ball hits a receivers hands he should bring it in. That ball that went off Dez's hands in the Seattle game was well behind him and only his athleticism enabled him to get his hands near the ball. Result was an INT, but why, when Dez is sitting down for the most part in the zone, drifting to his right, was the ball thrown to his far left? We tend to get on Terrance for being a body catcher, but he struggles mightily with balls behind him on his back hip, they too lead to INT's. Terrance is at his best when the ball is thrown out in front of him, he really needs a near perfect throw or a sideline so he can drag a toe or two.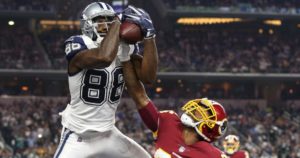 An issue that concerns me with Dak is that he appears to check it down when I see receivers open (enough) further down the field. When I watch a few minutes of the ALL 22, I'm baffled when I see guys open that he doesn't pull the trigger to get them the ball. Is it a visual thing? Does he not see the whole field? Does he know where his men are? I just don't think he can process the play visually at this point in his career or with the pocket collapsing on him like it did this year. The pick 6 the other day he had Zeke wide open and over threw him by a significant amount, but he also had space to get the ball to Witten or Beasley. In fairness he was under heavy pressure on that play. Much of this takes time to develop for a young QB. Dak has shown great leadership, heart and athletic ability, but he's not a 10 year veteran either. Did we have the anointing oils out after last year? Dak's hesitancy to work the middle of the field or take shots early in a game, I do feel makes that "box" I speak of, get smaller and smaller. Tony was never credited enough for his accuracy, but he put the ball on his guys where it was basically, pitch and catch. We have a way of expecting great things, on every play, for every anointed franchise QB for the Dallas Cowboys! Tony could also "throw" his guy open, something that Dak will hopefully get comfortable with over time. Tony didn't learn that in his first year with the team. If memory serves me he didn't hit the field until his fourth season. While I may point a few things out with Dak, he's a keeper and we have to be a patient while he gets the experience to move into the top 5 or 10 of QB's in the game.
When you see the ability of Dez, you should cringe when you see a route in traffic that's 3-4 yards. I want to see Dez working between 12-25 yards down the field. Good, no, great things can happen in that range. This is where you stretch a defense to and beyond its limits. Now there's a change that I'd make to get Dez more involved and way earlier in a game than the 2nd or 3rd quarter. I'd be playing with two WR's, one with size and the other with serious speed. Dez would be my slot WR about 40% of the time at a minimum on obvious passing downs. I'd have been fine with Butler, Williams & Dez on the outside to stretch the field. We've all seen Dez work from the slot and how it limits, if not prohibits the opposition from doubling him. In a four wide set, I'd sprinkle in Beasley or Switzer, which would wreak havoc on a defense! But the main set is three bigger, faster wide outs. Playing in the slot from time to time, gives him a two way go, a WR's dream. I think he'd be able to do some serious damage. A group with a different set of skills, the threesome on the outside & in the slot would stretch the field. That is mandatory and then, we should see Dez's production rise. Receptions increase, yards per catch increase and back to double digits in the most important category, TD's! We would also see Dak have a greater willingness to cut it loose in the 15-25 yard range as things would open up considerably more. Whether facing man or zone there would be more room to get the ball in to his receivers. Dak would be dynamite with more room. These tight windows are hampering him as well. Why isn't Zeke working down field on a linebacker, a total mismatch. They ran that in camp and no one could handle him, it was laughable and exhilarating to watch.Why is it he's limited to that short zone as well? Work beyond that first zone!
I don't want this to be viewed as a knock on Dak, he's done terrific but there's more to learn and refine in his game. But don't be cutting Dez and taking away the one receiver who demands double coverage and forces adjustments by the defense. But don't be as predictable and defensible with the personnel they're using. Then the box gets packed for Zeke with 8 men down, every game, every first and second down! Cutting Dez changes the entire offense and not in a good way! He still has three to four good years in him if he can stay healthy …… I'll take my chances ……
As for Dez's contract, he was paid based on the skills that could be utilized optimally by a veteran QB! Its not on Dez that they haven't adjusted the offense with another true wide out, as suggested above and move him around so that teams can't  take him away. As a coordinator I'd sleep well facing the likes of Williams, Beasley and Witten. They aren't going to dominate a game enough to beat me. They are nice role players and one will go to the HOF for his long and distinguished career. You need other guys who can beat their man one on one too! We don't have that with Williams and after watching Beasley in Oxnard, I thought he couldn't be covered one on one. If they can't use Dez properly to maximize his ability, then that's on your staff. Coaches, scouts & personnel execs …… I get that he's not producing (key word) at the level of his contract or as he did in his first four years! Have I laid out enough reasons why his production isn't what it could or should be with a few adjustments in personnel and scheme? But I'm not tossing Dez under the bus nor will I allow others to do it.  Gosh, a player like Dez doesn't come along often, just use the man to max that ability and all will be well in Big D!
Give me 22 guys with Dez's ability, heart and talent and we'll hoist another trophy! Take note of the defense the last four games! My mantra has long been No D, No Rings! That's being built and now a few tweaks with the offense and we'll be on our way! Dez will be a centerpiece of the offense as I've laid out and give us a legit shot to raise the trophy!
Agree or disagree but bring a good argument to counter what I've laid out for you here!
Happy New Year to all & see Dez at his best with the video below! Notice how many of these balls are thrown in the 15-30 yard range down field. This year thru 15 games, I believe Dez only has two or three receptions over 20 yards. This combo below did it weekly. Catch the execution on the back shoulder throws for TD's. The defender could know it was coming and was helpless to defend these two. Give Dak & Dez time, it will come!
Throwing up the X.
So. Many. Times.

Every @tonyromo ➡️ @DezBryant touchdown there ever was. https://t.co/Vcv3tZujCx

— NFL (@NFL) April 5, 2017