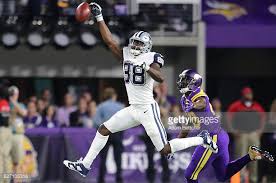 It's really hard to select "the" best player in camp thus far, but there are several that qualify. This is based on what we saw in Oxnard with a splash of two preseason games.
Top Five:
At the top of the list it has to be Dak Prescott for me, the MVP. The QB drives the engine of these practices, and he was solid to terrific.He clearly was working on staying in the pocket and reading the entire field. Loved how he was high pointing balls to his WR's and allowing them to go make a play against tight coverage. Dak & Dez were toying with the defense by the end of Oxnard with high light reel plays, often with great coverage.
How about Zack, Travis & Tyrun? Watching them anchor down is an amazing feat to observe and the defender is putting every ounce of strength into pushing them backwards and going nowhere. Doesn't happen easily, often or ever with these three!
Zeke Elliott is unbelievably impressive to watch. He looks so natural, smooth and comfortable in everything he does. No one could cover him out of the back field and it was obvious, that Linehan was expanding the playbook to use Zeke's skills. He showed great patience running to daylight.
Dez is as amazing as we've seen the last seven years and dominated throughout camp. In drills he's without question the alpha male, leading the way. The last week was filled with plays which were above the rim, his speciality.
No one seems to make mention of him, but Dan Bailey is nearly automatic. His team of Bailey, LP & Chris Jones, make the timing perfect.
You take this group of players and just have to have a ton of respect for them as premier players of their day, at their positions.
The second tier:
Anthony Hitchens appears to be embracing the challenge of Jaylon Smith or its simply that he's a free agent after this year. Tough decision for the team may be looming. In camp he was all over the place and looked very good.
Orlando Scandrick caught my eye as being closer to the old Orlando than last years version when he was struggling with injuries. He's as smart a CB as you'll find and there's no wasted movement. Stay healthy and he'll have a solid year.
Demarcus Lawrence & Benson Mayowa impressed me with their power & speed. DL is in his final year of his contract, so his results this year are crucial to him and the team. These two have to play big early while others are suspended. DL needs to stay healthy.
Jason Witten can't be left out as he was near perfect himself. In one on one competitions it was really no contest. He lets the "kid's" know that he's still bringing it every day and they can't stop him. He whipped the LB core & safeties in one on one's nearly every time Garrett called his number.
Rod Smith was outstanding in camp from the start. Almost daily taking one or two for 20 plus yards if not the length of the field. With the depth in the backfield he's made the decision process even more difficult for the coaches.
Brice Butler came to Oxnard and there were stories written that he was likely the one to be released in favor of Switzer or Noah Brown. Well, each and every day he was making plays. Brice is making a strong case to get significant snaps this year in passing situations.
You can't leave out Rico Gathers. Blocking is the major concern for the coaches. He's improving his route running, sharpening his cuts and making it really difficult to cover him. In camp he made three plays almost identical to the one's we all saw in the first two games. His 1 on 1's he showed a variety of defenders just how difficult it is to cover him.
Biggest Heart
 That award goes to Jaylon Smith, no explanation necessary!
Other Notables
Byron Jones, Geoff Swaim, Duke Thomas – each player has been solid through the first three weeks with Swaim making plays each day in his quiet fashion.
Best Rookies
Have to go with Chidobe early and then maybe Noah Brown the last two weeks. Too many rookies out with sore hammy's for them to be judged. Taco looked better in the Rams game, we can hope that upswing continues.
Let Downs in Oxnard
The "hammy wing" of the infirmary has been pretty crowded with Jourdan Lewis, Anthony Brown, Chidobe Awuzie, Cole Beasley, Ryan Switzer, Cedric Thornton & even my Pet Cat, Xavier Woods having all missed practice time. We were unable to see several of these players the first few weeks and they certainly will be limited once they do return. It will limit the rookies in particular early in the year, yet I'd expect all of them to be on the team. Marquez White has been out with the same malady but his position is less assured with the way Duke Thomas has been doing here early in camp.
La'ell Collins has struggled at times at RT thus far. Signs are there that he can handle the position, but he needs more  snaps to be ready for opening day. Expect a blocking TE to his side to start the season. Would prefer to see Green at RT and Collins at LG, but that's not looking likely at this point.