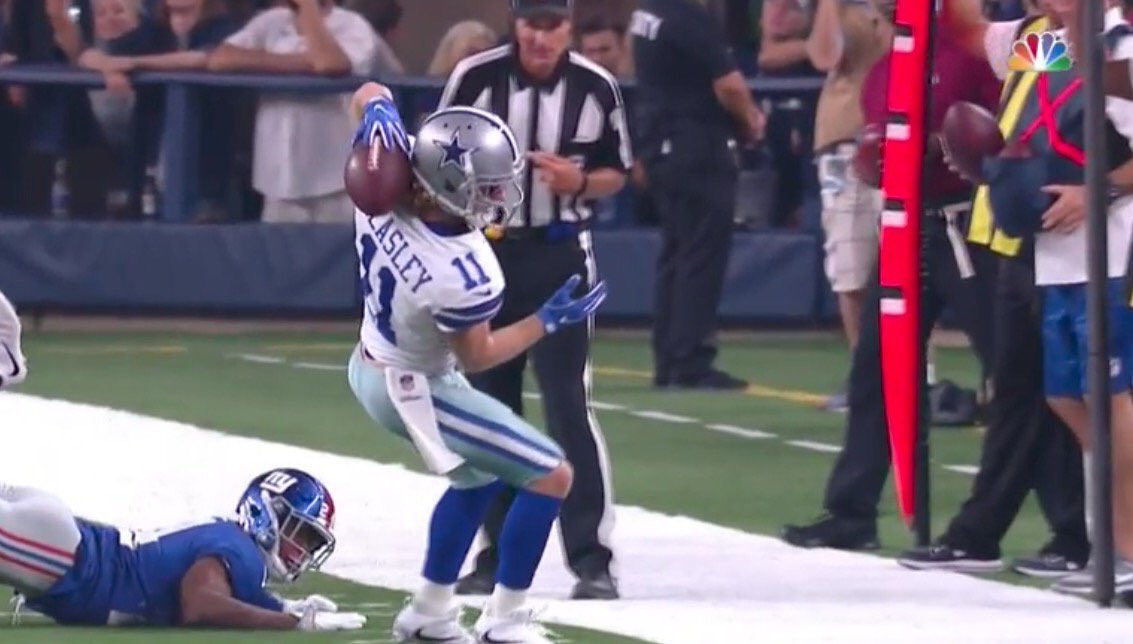 It wasn't a shootout, but it was nearly a shutout! The entire defense deserves game balls, with how they squeezed the zones and gave Eli little to work with & had him running for four quarters. The only sour note was that Orlando has a break in his hand and is scheduled for surgery on Monday. Their hoping he'll only be out 1 or 2 games. When you hold any opponent to only two, yes two first downs in the first half, hand out the game balls!
On Saturday, I wrote the break down of this match up (Waiting Eight Months for Sunday Night, Cowboys vs Giants!). I wrote this regarding Eli: "Fortunately, they still have Eli Manning! He will have his above average moments, but if you get the below average Eli, he will struggle in picking out the right jersey to throw to. He's never been the most accurate passer, but he's experienced enough to turn in a strong game from time to time. He's saved some of his best moments for us and we've never had defensive fronts or DB's to make him pay for his shortcomings." Eli didn't have much time in the pocket and with the solid zone play, there was nowhere for him to throw, especially in the first half. Check downs for three yards were ineffective. The improved secondary really made Eli throw in a dud performance and my Pet Cat from last season got him again.
We pressured Eli throughout the night, led by Demarcus Lawrence. If you caught the story on Thursday, "An In Depth Look at Key Defensive Players This Season", the first player written up was DLaw! He had two sacks on the night and three tackles for a loss. What I saw in Oxnard was what he showed all of us tonight. We also got a sack & a pressure from Tapper and a couple of late game pressures from Benson Mayowa. Maliek & Paea were doing a nice job of pushing the front of the pocket. Collins forced them into a holding call, but gave one back with a PF of his own. What was ideal was they were able to keep moving Eli around and didn't need to blitz to get pressure on him! The announcers weren't speaking of that, but the pressure allowed Marinelli to play zone, virtually all night.
I'm sure you all noticed that #50 was all over the place. Hard to believe he was only credited with 8 tackles. Here's what I wrote about him as a "player to watch" on Friday: "Keep an eye on #50, Sean Lee for the simple enjoyment of a near perfect player. Reads super fast, closes, finishes and comes up with key turnovers." He really was near perfect, filling holes, TFFL, great positioning in the zone coverage and making key tackles to end their possessions. Admittedly an easy call to have Lee and Jaylon Smith listed as "players to watch" and between them they were credited with 15 tackles. Want to hear and see the number of snaps the Jaylon played but it appeared he got the lions share of them at the Mike. The Giants only had 50 plays in this contest.
Here's what I wrote on my 2016 Pet Cat: "Expecting a quick start to the season for my Pet Cat from 2016, Anthony Brown. He's got a season under his belt and needs to come up with more plays this year." Well, I'm happy to say he delivered a solid start to the season. Everyone saw that athletic diving INT, but his coverage on Brandon Marshall down the left side was perfect on the attempted deep ball from Eli.
Offensively, Dak played a very solid, near perfect game and the O line handled the Giants defensive front, enabling Zeke to run for 104, hard running yards. Dak handled everything perfectly, ran when he needed to, gave his WR's good throws to work with.  Terrance Williams didn't give us the swag walk, but he was finding all the right spots in their zone and Dak kept finding him to keep moving the chains. The highlight play of the game offensively was when Brice Butler laid out for a beautiful throw from Dak, down to the Giants three yard line. Had we scored a TD on this drive it would have been the play of the game for sure. Here's where I was upset, as we went with three straight pass plays. 1st and goal from the three and we've got Zeke back there and his number wasn't called? You bet I was chapped! Didn't want to see us losing TD's and settling for FG's. Had I known that they wouldn't score more than three points, I would have relaxed and not worried about watching Dan Bailey split the uprights four times on the night. Once they got Zeke rolling, Dak was able to use a great fake into the line with #21 and hits Witten on a simple pitch and catch for the only TD on the night.
The Boys had a few chunk plays, the one to Butler for 30, Dez for 35 and Zeke for 31, but other than those it was the methodical moving of the ball up and down the field. It may not have been a big gainer, but the reception by Beasley in the second half was an extraordinary catch, behind his head, pinning it to his helmet, then maintaining his balance to stay in bounds while gaining control of the ball for a legit catch! One of the greatest catches you'll ever see and yet he did it almost as though he does that every day.It was a catch you sat and said to yourself, "no way", then "I've got to see that again", followed by "can I get another angle on that" and concluding with, "that's sick"! At the time it was a key first down. It didn't lead to points but it was a special play and just an example of how they worked hard and executed well throughout the game. It did allow the Boys to run more clock and eventually pin the Giants deep yet again when we punted. They dominated from start to finish.
The offense delivered their part in the win in their last two possessions of the first half. The next to last Cowboy possession resulting in that TD pass to Witten with 1:41 to go in the half gave the Boys breathing room. Then another three and out for Eli & the Giants returned the ball to us with 1:19 remaining. Dak moved Dallas first by hitting TWill for 13, Witten for 5, Williams again for 6 and then Dak took off for 17 to get into FG range. A pass to Witten for 7 set Bailey up for his third FG of the half. Closing the half with ten points inside the last two minutes, really sealed the outcome. A guy I wrote about that had to step up was La'ell Collins and for his first baptism by fire, facing JPP, he did a really solid job out on the edge. Yes, he got beat on a few plays but when you run 70 plays, that's pretty darn good!
Granted the Giants came out in the second half and moved the ball well, but settling for FG's when you're in a battle, only sets you up for a loss. The INT by Anthony Brown with 8:30 to go in the fourth set the Cowboys up to close out the game. Dak & the offense held the ball for over six minutes and slammed the door shut with the fourth FG of the night for Mr. Automatic.
We waited eight months for Sunday night and were rewarded for our patience! As I wrote on Saturday this was a huge game for the Cowboys. Sure you want to start the season with a win, but these guys took us down twice last year and believed they had our number and were primed to take the division. That thought was stepped on pretty emphatically, though their defense didn't yield easily. You can't have your main rival come in to your house and take you down, they didn't let that happen. Dak was 0-2 versus the Giants and he needed to get one against them and mission accomplished.
Seeing the defense play this well with all the new faces, they performed the way I was hopeful of by mid season. I felt that with the new DB's that we would be far better than with the players we lost to free agency. Chido appeared to do well in his snaps. We lacked consistent pressure from our DL last year but tonight, we got consistent pressure from the guys up front and that's a great start to the season. Can't dismiss the performance of Chris Jones as he pinned the Giants inside the ten yard line all night long …… That new shiny contract's looking like another fine investment!
How did you like the game and what and who stood out to you?
Here are a few video clips you might enjoy, our leader, "Bease" & game highlights  …….
.@dak checking in after a Week 1 win! #DallasCowboys #NYGvsDAL pic.twitter.com/XRziLVGZpB

— NFL (@NFL) September 11, 2017
RT if you also had to watch this clip over & over to witness all the awesomeness that is this @Bease11 catch. pic.twitter.com/VjD1nvVFWk

— Dallas Cowboys (@dallascowboys) September 11, 2017
Watch the highlights from the Cowboys week 1 win over the Giants. #NYGvsDAL

?: https://t.co/BEYpAMMhLO pic.twitter.com/BCgZ71jcQV

— Dallas Cowboys (@dallascowboys) September 11, 2017